weBoost Drive 4G-X 470510 + Marine Kit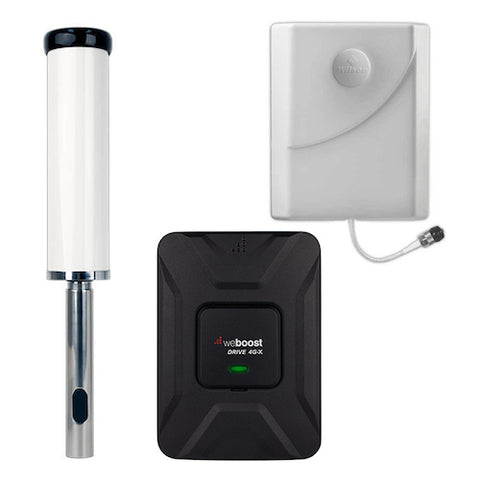 weBoost Drive 4G-X 470510 + Marine Kit
Regular price

$650.00 USD

Sale price

$599.00 USD
Best Price Guarantee. [1, 2, 3]
Buy Now, Pay Later with No Interest if paid in full within 6-12 months. Choose Klarna payment option at the checkout for details of this, and other long-term low-interest financing options.
Free Lifetime Support. SKU / Model: 470510-M
Best Price Guarantee [1 2 3]
Optional accessories available:
Call for FREE consultation:
1(855)846-2654
Need installation quote, or help with designing a custom solution? Submit a request for quote.
Description
Reviews
Questions & Answers
Make An Offer
Warning
Description
Product Description
weBoost Drive 4G-X 470510 + Marine Kit creates a powerful cell phone signal booster for boats, ships, ferries, etc. It increases cellular signal strength for talk, text, 3G & 4G LTE Internet wireless signals on all USA mobile carrier networks. It reduces dropped and missed calls and extends battery life for multiple simultaneous users. It provides clear and consistent coverage for all cellular devices inside.
5G Ready - This weBoost booster will work for the next decade and beyond.
Kit Includes:
470010 Booster amplifier with SMA female connector.
301152 Slim low profile interior antenna.
301126 4" Mini-magnet mount exterior antenna (optional).
859913 DC/DC Vehicle power supply 6V/2A.
304420 Marine weatherproof 2G, 3G, 4G LTE outside antenna.
901119 Marine antenna mount.
311135 Inside boat/ yacht/ ship Panel antenna.
955822 20 ft. RG-58 cable.
How Does It Work?
Mount exterior weather-proof antenna on the roof or highest spot on your boat, ship, or ferry. It will receive a signal from any cell towers within range, and amplify it to enhance signal by up to 50db. The panel antenna can be installed inside your marine vessel such as under the deck where good signals are required. That interior panel antenna will then broadcast the signal below deck, and all mobile users will receive more bars, and a better cell phone calling experience.
What Does It Work With?
You can use this Marine 4G Cell Phone Signal Booster with:
Any make or model of extended van, RV, bus, ferry, boat, ship, or other large vehicle with lots of room inside. Works with any USA cell carrier. Any mobile device that has 2G, 3G, 4G wireless connectivity.
From the manufacturer:
Summary.
Boosts voice, text, 3G & 4G LTE signals for all North American cell carriers.
Reduces dropped and missed calls.
Increases signal strength & extends battery life for all cellular devices.
Supports multiple users simultaneously.
Sets up in minutes - simple plug and play install.
Overview.
This phone booster kit for boats, yachts, ferries boosts voice, text and 4G LTE for all major North America cell carriers including AT&T, Verizon, Sprint and T-Mobile. weBoost cell phone signal boosters are ideal for use with hands-free cell phone car systems or Bluetooth devices. 
Dropped calls and slow data speeds are history, as it provides clear and consistent coverage for multiple cellular devices in any vehicle. End the frustration of weak and unreliable cellular signal.
This 2G, 3G, 4G LTE cellular signal booster for Marine vessels is compatible with following United States wireless service providers:
American Service Providers
AT&T Wireless
Boost Mobile
C Spire
Cricket Wireless
Metro PCS
Net10
Shentel
Simple Mobile
Sprint
Straight Talk
T-Mobile USA
Ting
TracFone
US Cellular
Verizon Wireless
Virgin Mobile USA
Marine Signal Booster Specifications.
| | |
| --- | --- |
| Frequency | 700 MHz - Band 12/ 13/ 17, 850 MHz - Band 5, 1700/ 2100 MHz - Band 4, 1900 MHz - Band 25/ 2. |
| Maximum Gain | 50 Decibels (dB) |
| Impedance | 50 Ohm |
| Voltage / Power | 6V/ 2.5A |
| Connectors | SMA-Female |
| Dimensions | 11.43 x 16.19 x 3.49 cm |
| Weight | 0.53 kg (amplifier only). |
| 470510 (USA) UPC | 811815024866 |
Consumer Alert:
Reviews
Questions & Answers
What is the optimal distance the inside antenna will reach cell phones?

There's no specific optimal distance we can state because it varies widely based on strength of outside signal. Stronger the outside signal where your exterior antenna is, larger the space from inside antenna where your cell devices will experience better signal connection.

If there's a decent outside signal, you could expect coverage up to maximum 15 to 20 feet. This kit can be also used in an RV style vehicle, in addtion to a large marine vessel.

Please note that using it in anything smaller or without strong barrier between this and exterior antenna (such as roof of vehicle or floorboard of a ship's deck) can cause interference between this and external antenna.

Such interference can cause oscillation between the two antennas and consequently cause signal amplifier to reduce output power considerably. Therefore, please ensure there's solid separation between the two antennas and you can expect max possible inside coverage distance from interior antenna.
Data Sheet / User Guide
Make An Offer
Warning
Note: For any signal booster to help, outside signal strength must be at least -110 dB or there must be a clear line of sight to a cell tower that is within twenty miles. Before ordering, please check outside signal level in decibels or ensure that you can make and hold a phone call at any good spot outside where you can mount an exterior antenna. Square footage stated in signal booster listings is based on good signal outside. If it is any weaker, the boosted sq. ft. area will be considerably lower, accordingly.
Kevin K. of Anderson, California gave the following review:
Website is easy to use with plain straight forward info but could have had more on testing signal strength to make sure you get a strong enough booster.
Therefore, please note that stated sq. ft. coverage is based on good signal outside. For best results: If outside signal is weak, we suggest choosing the next higher sq. ft. coverage kit. If outside signal is very weak, we suggest choosing the kit with even more higher sq. ft. range bracket. Basically, higher the sq. ft. bracket, the more powerful the signal amplifier with greater Gain as well as higher uplink and downlink output power.
If outside signal is too weak (weaker than -110 dB), submit request for cell coverage solution assessment. Upon receipt of questionnaire, we will perform residential or business site survey. This will help us determine the system that is needed to improve cell coverage. Then, we will create system design using that system such as femtocell, active or hybrid distributed antenna system (DAS), or other carrier feed signal enhancing method available that will work at your signal-challenged location. Finally, we will schedule for installation after equipment and installation service quote has been approved by you, or your company.
For non installation-included kits: Most home / office / building cell signal booster kits only include bracket to mount exterior antenna on outside wall, edge of roof, or existing pipe up to 2 inches in diameter. Mounting pole not included with most kits, unless stated specifically that it is included for free. Therefore, a mounting post must be purchased separately if you will require it to mount exterior antenna.
---
Related Products