Wilson Pro 1300 Amplifier Only with Power Supply & Cable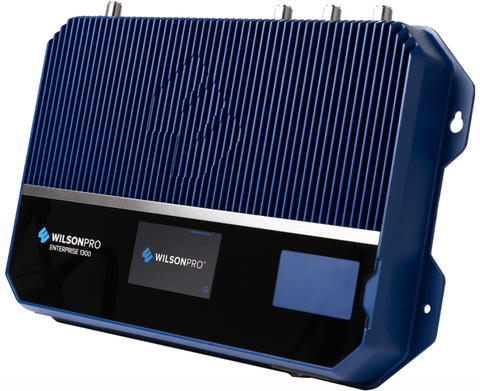 Wilson Pro 1300 Amplifier Only with Power Supply & Cable
Best Price Guarantee. [1, 2, 3]
Buy Now, Pay Later with No Interest if paid in full within 6-12 months. Choose Klarna payment option at the checkout for details of this, and other long-term low-interest financing options.
Free Lifetime Support. SKU / Model: 460249
Best Price Guarantee [1 2 3]
Call for FREE consultation:
1(855)846-2654
Need installation quote, or help with designing a custom solution? Submit a request for quote.
Description
Reviews
Questions & Answers
Data Sheet / User Guide
Make An Offer
Warning
Description
Product Description
Only Wilson Pro 1300 Amplifier & Cable Bundle Custom Kit For Installers.
Wilson Pro Booster Only Kits - Installer Custom Kit Options Available: (Only WilsonPro Enterprise 1300 Amplifier and Cable Bundle For Installers)

Bundle P/N 460249 - Enterprise 1300 Booster Unit, Power Cord, 250 ft. Coiled Wilson400 Black Cable.

Bundle P/N 460349 - Enterprise 1300 Booster Unit, Power Cord, 500 ft. Spool Wilson400 Black Cable.

Bundle P/N 460449 - Enterprise 1300 Booster Unit, Power Cord, 500 ft. Spool Wilson Plenum Orange Cable.

Bundle P/N 460549 - Enterprise 1300 Booster Unit, Power Cord, 500 ft. Spool Wilson Half Inch Plenum White Cable.

WilsonPro Installers, Integrators, Resellers and Dealers: In order to ensure compliance with the FCC, all authorized partners must sign a kitting agreement in order to participate in custom kitted program to buy these custom non-traditional amplifier-only kits with cable. Signing a WilsonPro Kitting Agreement indicates that you will comply with FCC regulations.
5G Ready - Per manufacturer, this WilsonPro cell phone booster will work for the next decade and beyond.
Custom only-amplifier with cable kits are those listed in this listing at the drop-down menu above (NOT needed for the complete WilsonPro 1300 kit option available). Wilson Pro Amp + Cable Custom Kitting Program requires new signed WilsonPro Amplifier + Cable Kitting Agreement on file from all buyers. Please complete and send by email or fax - prior to placing phone order, or with purchase order.
The Wilson Pro Enterprise 1300 cellular signal booster is a commercial-grade solution that boosts signals in areas of up to 40,000 square feet.
Enjoy unsurpassed cell phone coverage indoors with a range of over 40,000 square feet with the Wilson Pro Enterprise 1300.
Target certain frequencies from many towers with Multi-Tower Targeting technology (MTT) using the inbuilt three-port outdoor antenna configuration.
Remotely manage and monitor using Wilson Pro's Cloud integration. Connect your amplifier to the Cloud through LTE or wired connections.
Maximum 17 dBm downlink power and 26 dBm uplink power.
All cell phone devices on all carriers in North America can enjoy a simultaneous connection.
Enjoy enhanced viewing with an LCD touchscreen, 4.3 inches.
Eliminate signal loss and shutdowns with XDR technology.
If you would like to know more about customized installation services or the wholesale dealer price of the Wilson Pro 1300, contact us today.
The Technology Behind Wilson Pro's 1300 Cell Booster.
A cell signal amplifier designed to be used within buildings, the Wilson Pro Enterprise 1300 is the latest in cellular boosting technology. Configured with three outdoor port antennas, this revolutionary new product allows as many as three external antennas to be installed simultaneously. Each of these antennas can target a certain band of frequency from different towers, to collect and amplify multiple signals. This allows maximum coverage of up to 40,000 square feet.
Three Exterior Antennas.
Perfectly suited for medium-sized buildings such as financial institutions, multi-dwelling units, retailers, and restaurants, the Wilson Pro 1300 amplifier is a wall-mounted solution. With a default "common mode", the amplifier can cover an area of up to 40,000 square feet with only one donor outdoor antenna and one signal receiving port.
Wired Ethernet (Landline) And/Or SIM (Cellular) Remotely Monitored Capability.
Now building managers and integrators can remotely adjust, monitor, and manage the amplifier by way of Wilson Pro's Cloud remote monitoring functionality, available through the built-in cell modem LTE access. Alternatively, updates can be received on a tablet or smartphone in real-time, notifying of signal strength changes, oscillations, and system failures as they occur.
Impressive ROI (Return On Investment).
It was not long ago that department heads and IT experts had to be on-site to diagnose issues with a cell amplifier. Today, building managers and integrators can utilize remote monitoring facilities to receive immediate notifications of any issues including oscillations, system failures, and changes in signal strength. Using these cloud capabilities, remote troubleshooting becomes simple. This return on investment gives IT professionals all the numbers and other data they need to justify the initial financial outlay.
Simultaneous Connections, Regardless Of Carrier.
No matter whether you use a national or a small regional carrier, you can still enjoy the strongest possible cellular signals. The Wilson Pro 1300 is carrier agnostic, providing simultaneous support for all cellular signal networks in North America.
Scale To Cover An Enormous Area With Unsurpassed Downlink And Uplink Power.
With uplink power of up to 26 dBm, cell phone towers at great distances can still be reached. When combined with its downlink power of up to 17 dBm, it becomes clear that the Wilson Pro 1300 is an extremely powerful cell phone signal booster in its price range. Both scalable and stackable, the Wilson Pro 1300 can be combined to create an area of cellular signal coverage of up to 1 million square feet, depending on the architecture of the building. With a 60-day money-back guarantee and a three-year manufacturer's warranty, you cannot go wrong with the Wilson Pro 1300.
Interior Antenna Kits.
If you're looking to expand your indoor antenna, there are several options available to you (all of which are sold separately). Consider whether the following products may suit your installation:
Product Highlights:
Heightened range: Reach distant cell phone signal towers to create an indoor boosted area as large as 40,000 square feet.
Impressive power: With uplink power of up to 26 dBm and downlink power of up to 17 dBm, this is an extremely powerful signal amplifier in its price range.
LCD screen: The user-friendly LCD colored interface allows users to identify and troubleshoot issues, assess performance, make adjustments to the antenna, and so much more.
Easy installation: This wall-mounted unit is simple and easy to install.
XDR technology: Loaded with XDR technology, you can ensure that your signal amplifier won't become overloaded with outdoor signal or prematurely shut down.
Remote monitoring: Access the Wilson Pro Cloud service using ethernet or the internal LTE preactivated modem.
Split mode frequency-specific option: Access separate bands from different external antennas to create improved interior coverage.
Intelligent control via included software: Automatically control your amplifier using the inbuilt software to ensure full connection throughout multi-story buildings and other large spaces. Automatic adjustments ensure that the gain perfectly matches the signal environment conditions.
Amplifier Specifications:
Model: Wilson Pro (wall mount) 460149.
Frequencies: Band 4, 1700/2100 MHz; Band 5, 850 MHz; Band 12/17, 700 MHz; Band 13, 700 MHz; Band 25, 1900 MHz.

Maximum gain: 70 dB.

Impedance: 50 ohms.

Power range: 30 watts, 50 to 60 hertz, 110 to 240 volts AC.

Connector type: N-female.

Dimensions of wall-mounted amplifier: 2.5 x 12 x 9 inches.

Weight of amplifier: 16.52 lbs.

Power output range - uplink - single cell phone: 23.9 to 26.7 dBm, depending on band and frequency.

Power output range - downlink - single cell phone: 16.7 to 16.9 dBm, depending on band and frequency.

Noise: 5 decibels (nominal).

Isolation: > 90 dB.

Power: 0.5 A, 120 volts AC.

Important Notes.
This signal boosting product has been set and tested in the factory to ensure compliance with FCC regulations. It is not possible to adjust the signal booster without hardware disablement and factory reprogramming. While the signal booster will amplify signals, it will not alter outgoing or incoming signals to increase indoor coverage.
If the signal booster detects that it hasn't been used for five minutes, the signal gain will be reduced until a new signal is detected. The unit will automatically shut down for a particular band if oscillation is detected or if a too-high frequency signal is reported. Normal operations will resume one minute after an oscillation has been detected. If this automatic restart process occurs five times, the band in question will be permanently powered down and will require manual restarting by turning the signal booster off and then on again. During this time, linearity, gain, and noise power will be maintained by way of the microprocessor within the signal boosting unit.
The power output of this unit has been rated for single carrier operation only. When signals from multiple carriers are detected, a reduction in rating of 3.5 dB will apply. This is particularly the case where reradiated output signal occurs, causing interference to nearby band users. This reduction in power does not occur by way of output or attenuation of the device but through gain or input power reduction.
Using Certified Installers.
It is intended that this cell phone signal booster will be installed by a professional installation service. We're happy to offer complimentary system design and professional, expert installation for your Wilson Pro 1300 in any type of residential or commercial building at a reasonable price. To find out more, simply contact us and we will be happy to provide information about our certified installation services for Wilson Pro 1300 signal boosters and other Wilson products. Or please submit location details for WilsonPro 1300 installation service by certified Wilson cell phone signal booster installers.
How Signal Amplifier Works:
*Your specific installation will depend on the signal conditions outdoors and your indoor antenna configuration.
The Wilson Pro 1300 is the perfect signal boosting solution for medium-sized commercial buildings including medical clinics, restaurants, small businesses, grocery stores, retail stores, and offices.
This is a custom kit that includes only amplifier and a cable. Everything you need to set up and use your cell phone signal booster can be found within the complete Wilson Pro 1300 kit, including one broadcast antenna and one donor antenna.
One signal amplifier unit can boost the coverage within your building in an area as large as 40,000 square feet.
Three inbuilt outdoor antenna ports allow for multiple towers to be targeted simultaneously.
This product boasts the highest uplink and downlink power in its price range.
To maximize your coverage, consider purchasing the following optional extras:
To find out more about operating this signal booster, please refer to our post regarding targeting multiple towers using Wilson Pro Multi-Tower Targeting Antenna Technology.
Consumer Alert:
Reviews
Questions & Answers
QUESTIONS & ANSWERS
Have a Question?
Be the first to ask a question about this.
Ask a Question
Data Sheet / User Guide
Make An Offer
Warning
Note: For any signal booster to help, outside signal strength must be at least -110 dB or there must be a clear line of sight to a cell tower that is within twenty miles. Before ordering, please check outside signal level in decibels or ensure that you can make and hold a phone call at any good spot outside where you can mount an exterior antenna. Square footage stated in signal booster listings is based on good signal outside. If it is any weaker, the boosted sq. ft. area will be considerably lower, accordingly.
Kevin K. of Anderson, California gave the following review:
Website is easy to use with plain straight forward info but could have had more on testing signal strength to make sure you get a strong enough booster.
Therefore, please note that stated sq. ft. coverage is based on good signal outside. For best results: If outside signal is weak, we suggest choosing the next higher sq. ft. coverage kit. If outside signal is very weak, we suggest choosing the kit with even more higher sq. ft. range bracket. Basically, higher the sq. ft. bracket, the more powerful the signal amplifier with greater Gain as well as higher uplink and downlink output power.
If outside signal is too weak (weaker than -110 dB), submit request for cell coverage solution assessment. Upon receipt of questionnaire, we will perform residential or business site survey. This will help us determine the system that is needed to improve cell coverage. Then, we will create system design using that system such as femtocell, active or hybrid distributed antenna system (DAS), or other carrier feed signal enhancing method available that will work at your signal-challenged location. Finally, we will schedule for installation after equipment and installation service quote has been approved by you, or your company.
For non installation-included kits: Most home / office / building cell signal booster kits only include bracket to mount exterior antenna on outside wall, edge of roof, or existing pipe up to 2 inches in diameter. Mounting pole not included with most kits, unless stated specifically that it is included for free. Therefore, a mounting post must be purchased separately if you will require it to mount exterior antenna.
---
Related Products