Wilson Pro 4300R Booster Only With Power Supply & Cable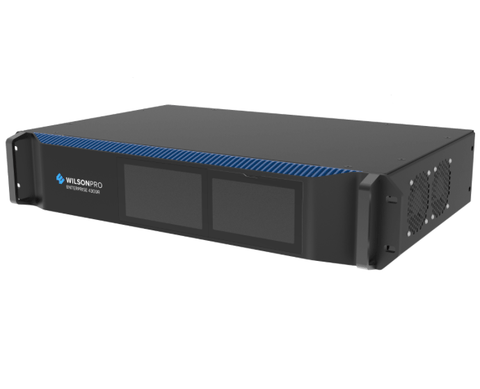 Wilson Pro 4300R Booster Only With Power Supply & Cable
Best Price Guarantee. [1, 2, 3]
Buy Now, Pay Later with No Interest if paid in full within 6-12 months. Choose Klarna payment option at the checkout for details of this, and other long-term low-interest financing options.
Free Lifetime Support. SKU / Model: 460253
Best Price Guarantee [1 2 3]
Call for FREE consultation:
1(855)846-2654
Need installation quote, or help with designing a custom solution? Submit a request for quote.
Description
Reviews
Questions & Answers
Data Sheet / User Guide
Make An Offer
Warning
Description
Product Description
Only Wilson Pro 4300R Amplifier & Cable Custom Kit Bundle For Installers.
Wilson Pro Booster Only Kits - Installer Custom Kit Options Available: (Only WilsonPro Enterprise 4300R Amplifier and Cable Bundle For Installers)
Bundle P/N 460253 - Enterprise 4300R Booster Unit, Power Cord, 500 ft. Wilson400 Black Cable Spool.

Bundle P/N 460353 - Enterprise 4300R Booster Unit, Power Cord, 1000 ft. Wilson400 Black Cable Spool.

Bundle P/N 460453 - Enterprise 4300R Booster Unit, Power Cord, 500 ft. Wilson Plenum Orange Cable Spool.
Bundle P/N 460653 - Enterprise 4300R Booster Unit, Power Cord, THREE White 500 ft. WilsonPro Half Inch Plenum Cable Spools.
Bundle P/N 460753 - Enterprise 4300R Booster Unit, Power Cord, FOUR White 500 ft. WilsonPro Half Inch Plenum Cable Spools.
WilsonPro Installers, Integrators, Resellers and Dealers: In order to ensure compliance with the FCC, all authorized partners must sign a kitting agreement in order to participate in custom kitted program to buy these custom non-traditional amplifier-only kits with cable. Signing a WilsonPro Kitting Agreement indicates that you will comply with FCC regulations.
5G Ready - Per manufacturer, this WilsonPro cell phone booster will work for the next decade and beyond.
Custom only-amplifier with cable kits are those listed in this listing at the drop-down menu above (NOT needed for the complete WilsonPro 4300R kit option available). Wilson Pro Amp + Cable Custom Kitting Program requires new signed Wilson Pro Amplifier + Cable Kitting Agreement on file from all buyers. Please complete and send by email or fax - prior to placing phone order, or with purchase order.
If you're looking to create an area of boosted cellular signal in your commercial space of up to 100,000 square feet, the enterprise 4300R is the signal boosting product you've been looking for. Another high-quality product by Wilson Pro, this signal booster is a powerful directional antenna that can deliver a large area of boosted signal in commercial spaces.
Product Highlights.
The Wilson Pro Enterprise 4300R can simultaneously target several carrier towers using its three external antenna ports.

The four internal antennas and server ports can be controlled independently to customize your system.

Achieve full remote functionality with a wired ethernet connection or by accessing the Wilson Pro Cloud.

Maximize your power with uplink of up to 26 dBm and downlink of up to 17 dBm.

XDR technology ensures that shutdowns and signal losses are all but eliminated.

The 4.3-inch monitor is a touchscreen to allow for easy operat
Commercial Grade Technology From Wilson Pro.
By utilizing MMT (multi-tower targeting) technology, the Wilson Pro 4300R can deliver unrivalled indoor cellular coverage in large commercial spaces of up to 100,000 square feet simply by tapping into numerous frequencies from multiple towers simultaneously. 
Wilson Pro is proud of its industry-first use of three outdoor antenna ports. Enjoy remote monitoring and management of your cell phone signal boosting system at any time by way of the Wilson Pro Cloud, which can be accessed via a wired connection or an LTE connection by utilizing the cell modem. By independently controlling the four internal antennas through the four server ports, maximum output of 17 dBm downlink and 26 dBm uplink can be achieved. 
Achieve simultaneous connections across all cell phone devices and all North American carriers. The systems XDR technology allows for shutdowns and signal losses to be virtually eliminated. Coaxial cables are joined via RF threaded medium-size Type N connectors (50 ohms).
Install Service, and Price.
Contact us to find out about the price of the Wilson Pro 4300R and for more information on our signal boosting system installation services.
Why Choose The 4300R From Wilson Pro?
The very latest in cell signal booster technology, the Wilson Pro Enterprise 4300R is an in-building signal amplifier graded for commercial use. Depending on the location of and distance between your commercial premises and nearby cell signal towers, the industry-first configuration of the revolutionary three external ports can allow you to access as many as three outdoor antennas at any time. Even better, each external antenna can have a specific frequency band allocated to it which allows for signals to be collectively amplified via multiple towers.
Enjoy Full Flexibility.
The default or "common mode" of the Wilson Pro Enterprise 4300R rack-mounted amplifier is to utilize one donor outdoor antenna and one port to receive cellular signals. Even in this mode, the three internal ports can still provide as much as 100,000 square feet of internal coverage, making this product your go-to solution for enhanced signal coverage within a large commercial complex.
The Benefits Of Remote Monitoring.
If you've ever wished that you could be notified (on a smartphone, tablet, or another similar device) of system oscillations, system failures, and signal strength changes in real-time as they occur, now you can. The Wilson Pro Cloud (which can be accessed using LTE via the inbuilt cell phone modem or through a wired connection) gives full remote functionality, including the ability to remotely monitor, adjust, and manage the signal amplifier.
Amazing Return On Investment.
Until now, IT experts and system administrators could only diagnose issues with a cellular amplifier system by physically being on-site. Luckily Cloud technology has improved to the point that signal boosting systems can be monitored remotely and issues including signal strength oscillations and changes in signal strength can trigger a real-time notification to the relevant person. Technology now also allows remote resolution and troubleshooting of any issues as they arise. With these advancements, IT professionals have all the data and numbers they need to justify cell phone signal boosting infrastructure expenditure, making it simpler to communicate the need for these products and to deal with the expectations of employees and senior management.
Compatible Across All Carriers.
Fully compatible with all cellular networks in North America, this amplifier system is carrier agnostic - allowing everyone to enjoy boosted cell phone signals regardless of their choice of carrier.
Full-Powered Downlink And Uplink.
The Wilson Pro 4300R generates uplink power as high as 26 dBm. This high level of uplink power ensures that even distant cell phone towers can be accessed by the signal booster. Along with downlink power of up to 17 dBm, the Wilson Pro 4300R is one of the best value signal boosters in its price range. This cell phone signal amplifier is scalable and stackable. The unit comes equipped with four inbuilt internal ports, each of which can broadcast signals effectively on its own and with each port having downlink power of as much as 17 dBm.
Scalable And Stackable.
Since this unit is scalable and stackable, you can achieve a 1 million square feet total coverage area by introducing new units to the system. Much will depend on how your building is laid out. When you purchase a Wilson Pro signal booster, you will have the peace of mind of a manufacturer's warranty (three years) and the SignalBooster.com moneyback guarantee (60 days).
Extra Antennas for Building Interior.
You can further improve your signal coverage indoors by purchasing additional indoor antennas, including the following:
4300R Model Highlights.
Maximum range: Create an area of boosted signal coverage in commercial buildings as large as 100,000 square feet with this high-powered signal amplifier.

Multi-tower targeting technology: With three inbuilt external ports, this unit can simultaneously access distinct signal bands from various towers.

Powerful: With uplink power of up to 26 dBm and downlink power of up to 17 dBm, this signal booster is the best performing unit in its price bracket.

LCD touchscreen: The colored intuitive screen allows for easy problem troubleshooting, performance assessment, and antenna adjustments.

Simple installation: This rack-mounted unit makes installation a breeze.

Innovative technology: The inbuilt XDR technology of the signal booster ensures that it won't shut down or become overloaded with signal.

Remote access: The inbuilt cell phone modem allows an LTE connection to the Wilson Pro Cloud; otherwise wired connections are also available for remote management and monitoring.

Split mode: Different external antennas can access specific signal bands, ultimately improving your indoor signal coverage levels.

Four independently controlled ports: Each of the four internal antennas can be independently controlled, with each providing as much as 17 dBm of downlink power.

 

This allows for a total coverage area as high as 100,000 square feet.
Inbuilt software: The inbuilt software allows automatic control of your signal boosting setup, facilitating continuous connectivity through your multi-storey or other large commercial complexes.

 

The software will assess the surrounding environment and make adjustments to the gain levels as needed.
4300R Amp. Specifications:
Model: 460153 Rack Mounted Wilson Pro 4300R.

Frequencies: Band 25, 1900 MHz; Band 13, 700 MHz; Band 12/17, 700 MHz; Band 4, 1700/2100 MHz; Band 5, 850 MHz.

Gain (maximum): 70 dB.

Impedance: 50 ohms.

Power: 50 to 60 hertz, 30 watts, 110 to 240 volts AC.

Connector: N-Female.

Dimensions of rack-mounted amplifier unit: 3.75 x 12 x 17.5 inches.

Weight of rack-mounted amplifier: 9.86 lbs.

Single-cell device power output (uplink, depending on band and frequency): between 22.8 dBm and 25.5 dBm.

Single-cell device power output (downlink, depending on band and frequency): between 16.6 dBm and 16.9 dBm.

Noise: 5 dB (nominal).

Isolation: >90 dB.

Electricity requirements: 120 volts AC, 0.5 amps.

Please Note:
FCC compliance has been ensured following thorough individual testing and factory settings. The signal booster's settings cannot be adjusted without hardware disablement or factory reprogramming. This product aims to dramatically improve signal coverage of various frequency bands and will amplify signals to achieve this, but will not alter any outgoing signals or incoming signals.
If unused for a consecutive period of five minutes, the unit will reduce its gain until it detects a new signal. If the unit detects an oscillation in signal or a signal in a frequency band that is too high, it will shut down for that specific band only. The signal boosting unit will attempt to restart after being powered down for one minute. Should this restarting procedure occur five times in a row, the signal boosting unit will automatically power down for those problematic frequency bands only. This powering down will last until the signal booster is manually restarted by temporarily removing its power source. The signal amplifier's microprocessor is in charge of maintaining the gain, linearity, and noise power of the signal booster.
The output power rating of this signal booster has been determined by considering a single carrier only. The detection of multiple carrier signals will necessitate a drop in the rating of 3.5 dB since output signal re-radiation can cause users of adjacent bands to notice interference. Power reductions will not occur by way of an attenuator at the device output level but instead will take place through a reduction in input or gain.
Help From Certified Installers Available.
You will need to utilize a professional installer to design, install, and test your new cell phone signal boosting solution. For obligation free system design services and expert signal boosting system installation, please contact us for more information on our competitively priced commercial and residential installations. Or please submit location details for WilsonPro 4300 installation service by certified Wilson cell phone booster installers.
How The 4300R Operates*:
*Please note that the configuration of your indoor antenna and the outdoor signal conditions could mean that your installation will differ from that shown above.
The Wilson Pro Enterprise 4300R is ideally suited for larger commercial areas covering as much as 100,000 square feet, including distribution centers and warehouses, manufacturing facilities and factories, multilevel corporate spaces, membership stores (for example, Costco), corporate offices, big-box retailers (for example, Best Buy), colleges, K-12 schools, medical centers, and hospitals.
Kit Purchase Summary.
This is a custom kit that includes only amplifier and a cable. Everything you need to set up and use your cell phone signal booster can be found within the complete Wilson Pro 4300R kit, including a single donor antenna and four broadcast antennas.

Boost your in-building cell phone signals to a maximum area of 100,000 square feet with a single unit.

The three outdoor and four indoor antenna ports allow for multiple simultaneous targeting of numerous towers.

You won't find greater levels of adjustable uplink or downlink power on the market within this price range.
By purchasing one or more of these optional products, you can maximize your coverage:
If you'd like to know more about operating this product, read more about the technology powering the multi-tower targeting capabilities utilized by Wilson Pro.
Consumer Alert:
Reviews
Questions & Answers
QUESTIONS & ANSWERS
Have a Question?
Be the first to ask a question about this.
Ask a Question
Data Sheet / User Guide
Make An Offer
Warning
Note: For any signal booster to help, outside signal strength must be at least -110 dB or there must be a clear line of sight to a cell tower that is within twenty miles. Before ordering, please check outside signal level in decibels or ensure that you can make and hold a phone call at any good spot outside where you can mount an exterior antenna. Square footage stated in signal booster listings is based on good signal outside. If it is any weaker, the boosted sq. ft. area will be considerably lower, accordingly.
Kevin K. of Anderson, California gave the following review:
Website is easy to use with plain straight forward info but could have had more on testing signal strength to make sure you get a strong enough booster.
Therefore, please note that stated sq. ft. coverage is based on good signal outside. For best results: If outside signal is weak, we suggest choosing the next higher sq. ft. coverage kit. If outside signal is very weak, we suggest choosing the kit with even more higher sq. ft. range bracket. Basically, higher the sq. ft. bracket, the more powerful the signal amplifier with greater Gain as well as higher uplink and downlink output power.
If outside signal is too weak (weaker than -110 dB), submit request for cell coverage solution assessment. Upon receipt of questionnaire, we will perform residential or business site survey. This will help us determine the system that is needed to improve cell coverage. Then, we will create system design using that system such as femtocell, active or hybrid distributed antenna system (DAS), or other carrier feed signal enhancing method available that will work at your signal-challenged location. Finally, we will schedule for installation after equipment and installation service quote has been approved by you, or your company.
For non installation-included kits: Most home / office / building cell signal booster kits only include bracket to mount exterior antenna on outside wall, edge of roof, or existing pipe up to 2 inches in diameter. Mounting pole not included with most kits, unless stated specifically that it is included for free. Therefore, a mounting post must be purchased separately if you will require it to mount exterior antenna.
---
Related Products