An item you're pre-ordering is on backorder so it will take few days to ship - are you sure you want to proceed to order it?
Close
HiBoost PRO 3G Industrial 30k Ft² | F20K-CP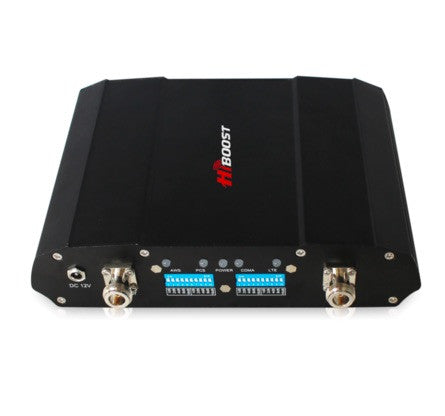 HiBoost PRO 3G Industrial 30k Ft² | F20K-CP
Regular price

$1,050.00 USD

Sale price

$962.95 USD
Best Price Guarantee. [1, 2, 3]
Buy Now, Pay Later with No Interest if paid in full within 6-12 months. Choose Klarna payment option at the checkout for details of this, and other long-term low-interest financing options.
Free Lifetime Support. SKU / Model: F20K-CP
Best Price Guarantee [1 2 3]
Sorry, this item is discontinued and replaced with the new upgraded 4G versions, HiBoost Commercial 20K and Commercial 30K signal booster kits.
.
Call for FREE consultation:
1(855)846-2654
Need installation quote, or help with designing a custom solution? Submit a request for quote.
Description
Reviews
Questions & Answers
Make An Offer
Warning
Description
Product Description
HiBoost PRO Amplifier Voice and 3G Data Industrial cellular booster is an industrial grade 2G and 3G wireless signal booster for up to 30,000 square feet with 70 dB Gain.
HiBoost's Industrial PRO Amp 3G Cellular Booster/ Amplifier/ Repeater Kit with Part # F20K-CP is a dual band booster that amplifies signals of all cellular operators in USA & Canada. It boosts 2G and 3G voice signals for clear voice, fast 3G mobile internet uploads and downloads. It improves wireless reception over up to 30,000 sq. ft. with capacity to support up to 100 cell phone and device users simultaneously! Everyone can now enjoy the freedom of clear calls and constant high speed data within your retail store or business office space/ apartment building.
Cell Phone Signal Booster Kit Features:
Boosts Talk & Text and 3G Data Transfer Speeds.
For Large Apartment Buildings, Malls, and Office Buildings up to 30,000 sq. ft.
Up to +70 Decibel Gain.
All 2G and 3G standards are supported.
Supports up to 100 users.
3 Year Warranty.
IC Industry Canada and USA FCC Approved and Certified.
Key Benefits:
Streamlined design.
Quality metal construction - strong and durable.
Compatible with all cell devices.
Compatible with all cell phone service providers.
Designed for installations by FCC licensees and qualified certified installers.

F20 & F20S series

amplifiers have good q

uality metal construction that is strong and durable.
Signal amplifier can be combined with any exterior antenna and any number of interior antennas as needed for installation.
Cell Phone Booster Kit F20KCP Includes:
Hi-Boost PRO Amp 3G 70 dB industrial cell phone booster amplifier.
Power Supply and Adapter.
User manual and installation guide.
Choose either a Yagi external uni-directional antenna (50 Ohms) or Omni external omni-directional antenna (50 Ohms). Then consider purchasing any internal antenna expansion kit (50 Ohms) for multiple interior antennas for installation inside the building. Please submit details to help you prepare system design and provide quote for installation.
Smart HiBoost Functions:
AGC and MGC.
Hi Boost Industrial PRO Amp 3G Booster Kit (F20K-CP model) is equipped with smart MGC and AGC functions. AGC automatically controls system gain according to input signal in your area. It balances booster power in order not to interfere with mobile operator's networks.  
Thanks to the MGC function, it is possible to increase or decrease booster gain manually!
Indication LEDs.
Thanks to indication LEDs on booster interface, it is easy to keep an eye on booster's current working state. Alarm LED will also warn you if there's any oscillation or trouble which can then be corrected.
Specifications:
Upload Frequency Range: 824-849 / 1850-1910.
Download Frequency Range: 869-894 / 1930-1990.
Supported Standards: CDMA, WCDMA, GSM, EDGE, HSPA+, EVDO cellular standards.
Maximum Gain: Uplink 65 dB/ Downlink 70 dB.
Maximum Output Power: Uplink 17 dBm/ Downlink 20 dBm.
MGC (Step Attenuation): 31 dB/ 1 dB Step.
Automatic Gain Control: 31 dB.
I/O Port: N-Female.
Impedance: 50 ohm.
Environment Conditions: IP40.
Dimensions: 8.6 x 6.5 x 2 inches or 218 x 165 x 50 millimeters.
Weight: ≤5 Lbs/ 2.2 Kg.
Power Supply: Input AC 100~240V, 50/60Hz, Output DC 12V / 3A.
WARNING. Per FCC laws and regulations, this INDUSTRIAL GRADE device must not be installed by consumers. It is designed for installation by QUALIFIED INSTALLERS only. You MUST have an express consent in writing from all Carriers in your service area to operate this device. Unauthorized use may result in significant forfeiture penalties, including penalties in excess of $100,000 for each continuing violation. Please contact us for a quote if you require professional installation and assistance with consent and approval process.
Reviews
Questions & Answers
QUESTIONS & ANSWERS
Have a Question?
Be the first to ask a question about this.
Ask a Question
Data Sheet / User Guide
Make An Offer
Warning
Note: For any signal booster to help, outside signal strength must be at least -110 dB or there must be a clear line of sight to a cell tower that is within twenty miles. Before ordering, please check outside signal level in decibels or ensure that you can make and hold a phone call at any good spot outside where you can mount an exterior antenna. Square footage stated in signal booster listings is based on good signal outside. If it is any weaker, the boosted sq. ft. area will be considerably lower, accordingly.
Kevin K. of Anderson, California gave the following review:
Website is easy to use with plain straight forward info but could have had more on testing signal strength to make sure you get a strong enough booster.
Therefore, please note that stated sq. ft. coverage is based on good signal outside. For best results: If outside signal is weak, we suggest choosing the next higher sq. ft. coverage kit. If outside signal is very weak, we suggest choosing the kit with even more higher sq. ft. range bracket. Basically, higher the sq. ft. bracket, the more powerful the signal amplifier with greater Gain as well as higher uplink and downlink output power.
If outside signal is too weak (weaker than -110 dB), submit request for cell coverage solution assessment. Upon receipt of questionnaire, we will perform residential or business site survey. This will help us determine the system that is needed to improve cell coverage. Then, we will create system design using that system such as femtocell, active or hybrid distributed antenna system (DAS), or other carrier feed signal enhancing method available that will work at your signal-challenged location. Finally, we will schedule for installation after equipment and installation service quote has been approved by you, or your company.
For non installation-included kits: Most home / office / building cell signal booster kits only include bracket to mount exterior antenna on outside wall, edge of roof, or existing pipe up to 2 inches in diameter. Mounting pole not included with most kits, unless stated specifically that it is included for free. Therefore, a mounting post must be purchased separately if you will require it to mount exterior antenna.
---
Related Products