Nextivity Cel-Fi Outdoor Wideband Directional LPDA-R Antenna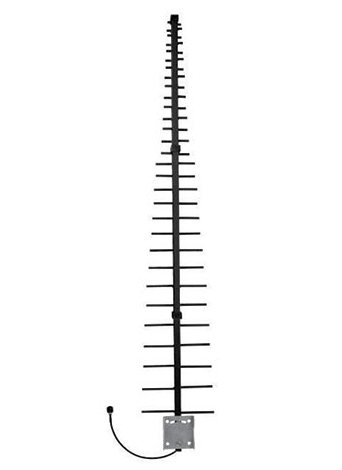 Nextivity Cel-Fi Outdoor Wideband Directional LPDA-R Antenna
Best Price Guarantee. [1, 2, 3]
Buy Now, Pay Later with No Interest if paid in full within 6-12 months. Choose Klarna payment option at the checkout for details of this, and other long-term low-interest financing options.
Free Lifetime Support. SKU / Model: A62-V44-200
Best Price Guarantee [1 2 3]
*An exception for this product: Only 30 days return policy. Must be returned in mint condition for refund. 2 years limited manufacturer warranty for repair or replacement due to manufacturer defect(s).
Need similarly powerful exterior 50 Ohm directional antenna with up to 26 dBi Gain option? For extremely weak signal areas, consider unidirectional RF-Boost High Power Long Range Antenna to replace any 50 Ohm Yagi / LPDA or Omni antenna within your signal enhancing system. It is ultra wide-band and ultra directional parabolic metal grid antenna. It requires precise directional focusing using signal meter for max. add'l Gain of up to +26 dB.
Call for FREE consultation:
1(855)846-2654
Need installation quote, or help with designing a custom solution? Submit a request for quote.
Description
Reviews
Questions & Answers
Make An Offer
Warning
Description
Product Description
Cel-Fi LPDA Antenna offers a powerful 12 or 14 dBi gain (depending on carrier frequency) over 617 through 4000 MHz frequencies. This new 3G, 4G, LTE, 5G version 2 LPDA-R Antenna also offers Band 71 Support. This is the best and longest distance antenna for all types of donor or tower antenna applications for in-building cellular signal boosters. Its industrial design reduces out of band noise to improve SiNR and overall signal quality.
Mounting is made simple with included U-Bolts. This enables you to mount the antenna on a flat surface or a pole. This Cel-Fi product also features a 10K ohm resistor that enables the antenna connection to be validated by Cel-Fi Network Units equipped with the capability. Includes bracket/ pole mount and cable with type N female connector. CelFi SKU: 591NA82G4050CV44. Model number is A62-V44-200 / A62V44-200 / A62-V44200 / A62V44200. UPC: 697691016535.
Summary: Nextivity Cel-Fi Outdoor Wideband Directional LPDA-R Antenna - Band 71 Support – Bracket/ Pole Mount – Black 10" Cable – LTE (N F).
Features:
12–14 dBi gain.
Suitable for all mobile carriers operating 2G, 3G, 4G, LTE, 5G.
Narrow beamwidth to reduce noise.
Comes with U-Bolt mounts.
Includes 10 INCHES RG58 Cable N-type Female connector.
Fully welded construction.
Rugged construction for harsh enviroments.
Specifications:
| | |
| --- | --- |
| Frequency Range | 617–960 MHz | 1710–2700 MHz | 3300–4000 MHz |
| Impedance | 50 Ohms |
| Front to Back Ratio (dB) | ≥24 | ≥24 | ≥13 |
| Gain | 12 dBi (698-960 MHz) and 14 dBi (1710-2700 MHz) |
| Lightning Protection | DC Ground |
| Polarization | Vertical |
| Horizontal Beamwidth | 55°| 42° | 36° |
| Vertical Beamwidth | 46°| 34° | 32° |
| VSWR | ≤ 2.5 | ≤2.0 | ≤2.0 |
| Maximum Input Power | 50 W |
| Connector Type | N-Female |
| Mounting Pole | 38 x 52 mm |
| Dimensions | 1280 mm |
| Antenna Color | Black |
| Radome Material | UV-PVC |
| Reflector Material | Aluminum |
| Rated Wind Velocity | 210 km/h |
| Operating Temp | -40 degrees C to 65 degrees C |
| Cable length | 27 cm |
| Weight | 1.6 kg |
Other 5G Band 71 Covering Exterior Antennas Available:
Reviews
Questions & Answers
I placed an order for a cel fi lpda r antenna. This is my second purchase from you. I just wanted to be sure the antenna includes the mast tilt down brackets. I saw a few other sites which sold the same thing and they looked different. Just checking it can be swiveled and rotated.

It does include the mast tilt down brackets. Mounting is made simple with a mast down-tilt bracket and U-Bolts. This enables you to mount the antenna on a flat surface, or a pole. A 45 degree mount attachment enables antenna to be mounted at a tilt, for optimal matching of macro donor signals.

We're planning on buying a cel-fi go x today on your website, and I saw this antenna and just wanted to ask about it. We're in a rural area, boosting a weak signal that is might be poor quality as well. Perhaps this antenna combined with a new celfi go x would help, or could be pointed at another tower for a better quality signal? We are currently using a universal booster that I installed myself and it does a mediocre job. I also wanted to inquire about installation for the entire system. The property address is in Fredericktown, MO.

The directional antenna that can be purchased with Cel-Fi GO kit is powerful but the LPDA-R element antenna is indeed even more powerful. You may have also seen earlier LPDA element antenna (without "R" at end of its SKU) and it does the same except the difference is that its coverage frequencies begin with 698 MHz versus those with LPDA-R begin with 617 MHz so that it covers T-Mobile's Band 71 5G Sub-6 Frequencies.

For installation service, you must please submit this questionnaire because we need more information to determine cost estimate and time frame we can install it by. Thank you.
Data Sheet / User Guide
Make An Offer
Warning
Note: For any signal booster to help, outside signal strength must be at least -110 dB or there must be a clear line of sight to a cell tower that is within twenty miles. Before ordering, please check outside signal level in decibels or ensure that you can make and hold a phone call at any good spot outside where you can mount an exterior antenna. Square footage stated in signal booster listings is based on good signal outside. If it is any weaker, the boosted sq. ft. area will be considerably lower, accordingly.
Kevin K. of Anderson, California gave the following review:
Website is easy to use with plain straight forward info but could have had more on testing signal strength to make sure you get a strong enough booster.
Therefore, please note that stated sq. ft. coverage is based on good signal outside. For best results: If outside signal is weak, we suggest choosing the next higher sq. ft. coverage kit. If outside signal is very weak, we suggest choosing the kit with even more higher sq. ft. range bracket. Basically, higher the sq. ft. bracket, the more powerful the signal amplifier with greater Gain as well as higher uplink and downlink output power.
If outside signal is too weak (weaker than -110 dB), submit request for cell coverage solution assessment. Upon receipt of questionnaire, we will perform residential or business site survey. This will help us determine the system that is needed to improve cell coverage. Then, we will create system design using that system such as femtocell, active or hybrid distributed antenna system (DAS), or other carrier feed signal enhancing method available that will work at your signal-challenged location. Finally, we will schedule for installation after equipment and installation service quote has been approved by you, or your company.
For non installation-included kits: Most home / office / building cell signal booster kits only include bracket to mount exterior antenna on outside wall, edge of roof, or existing pipe up to 2 inches in diameter. Mounting pole not included with most kits, unless stated specifically that it is included for free. Therefore, a mounting post must be purchased separately if you will require it to mount exterior antenna.
---
Related Products