An item you're pre-ordering is on backorder so it will take few days to ship - are you sure you want to proceed to order it?
Close
weBoost eqo 4G | 474120/ 474120F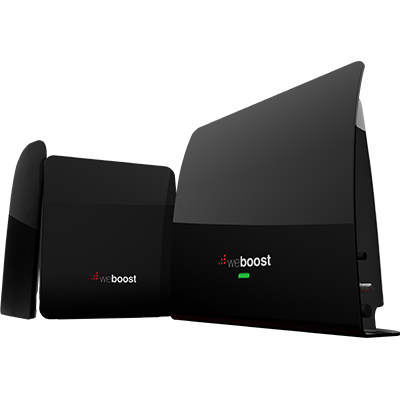 weBoost eqo 4G | 474120/ 474120F
Regular price

$349.99 USD

Sale price

$299.99 USD
Best Price Guarantee. [1, 2, 3]
Buy Now, Pay Later with No Interest if paid in full within 6-12 months. Choose Klarna payment option at the checkout for details of this, and other long-term low-interest financing options.
Free Lifetime Support. SKU / Model: 474120
Best Price Guarantee [1 2 3]
Call for FREE consultation:
1(855)846-2654
Need installation quote, or help with designing a custom solution? Submit a request for quote.
Description
Reviews
Questions & Answers
Make An Offer
Warning
Description
Product Description
Rated best signal booster by PC Magazine, the weBoost eqo 4G improves cell signal up to 32 times in home, condo or apartment in seconds. It boosts reception for multiple cellular phones simultaneously. It enhances indoor 3G and 4G LTE coverage for all mobile service networks of all carriers in USA and Canada. It boosts voice & data signals for a desktop work space area up to one small room or up to 500 square feet maximum with good signal at a window location. Set-up is easy and takes only 5 minutes to complete for most people. This is weBoost's easiest installed signal booster to date. Buy now to stop dropping calls. It comes with 60-days money back guarantee and a 2-year manufacturer warranty meaning for defects in workmanship.
Installation Process and How It Works.
First select a window that has the strongest signal when window is open. To measure the strength of signal accurately, use the technique to measure signal strength in decibels because signal bars on smartphones are usually not very accurate. A decibel (dB) is a unit of signal strength measurement. After choosing the window where best signal strength is detected, a slim looking exterior antenna is placed right outside behind that window pane to attract signals from outside. A flat cable is run inside which is so flat that the window can be closed easily without damaging the cable. That cable connects to the window unit which is a signal booster. This boosting unit boosts signal it receives from antenna and sends it via 2nd cable to indoor coverage unit which is called a desktop antenna. That desktop coverage unit broadcasts signals inside the room all around it up to 500 sq. ft.
Product Highlights.
Used for 1 room in an Office, Home, Condo, or Apartment up to 500 sq. ft.
Easy Plug and Play Installation.
Amplifies text messaging, calling/ talking on phone, and 3G + 4G LTE data for Internet on smartphones.
Works on all service carrier networks and smartphones.
Multiple users and devices such as tablets, cell phones, mobile hotspots boosted simultaneously.
Maximum Gain: Up to +70 dB.
Coverage Area up to 500 sq. ft. depending on signal strength near a window:
The wireless signal strength at a window has a huge impact on the coverage area you can expect from a signal booster. Please note that many factors determine coverage area, so actual results may differ from the estimates given below.
50 sq. ft. with 1-2 bars (-100 dB).
250 sq. ft. with 3-4 bars (-85 dB).
500 sq. ft. with 5 bars (-65 dB).
Please note that if there's no signal at a window spot inside, this signal booster will NOT help create signal indoors. A Small Cell Technology signal enhancing system or Distributed Antenna System (DAS) will be required in those instances when there's zero cell phone service available for this signal booster to boost (zero bars or "no service" display).
What is included in the kit?
EQO Multi-band Cell Phone Amplifier & Repeater Sku # 474020 / 460032 (Base Product Id).
Outside Antenna.
Inside Desktop Antenna.
Power Supply.
6 ft. + 25 ft. Coaxial Cables.
Installation Manual and Instructions for weBoost 474120.
Specifications.
| | |
| --- | --- |
| Frequency | 700 MHz - Band 12/ 13/ 17, 800 MHz - Band 5, 1700/ 2100 MHz - Band 4, 1900 MHz - Band 2. |
| Maximum Gain | 70 Decibels (dB) |
| Impedance | 50 Ohm |
| Voltage / Power | 110-240 V AC, 50-60 Hz, 8 W |
| Connectors | SMA-Female |
| Dimensions | 11.98 x 9 x 4 inches |
| Weight | 2.44 lbs |
| 474120 (USA) UPC | 811815027096 |
| 474120F (Canada) UPC | 811815027317 |
Installation.
This cellphone booster kit is easy to install with all required components and installation instructions included.
For Canada:
This is a consumer device.
BEFORE USE, you must meet all requirements set out in CPC-2-1-05.
You MUST operate this device with approved antennas and cables as specified by the manufacturer. Antennas MUST NOT be installed at least 20 cm (8 inches) from any person.
You MUST cease operating this device immediately if requested by ISED or a licensed wireless service provider.
WARNING. E911 location information may not be provided or may be inaccurate for calls served by using this device.
In addition, Consumer Zone Enhancers certified for fixed operation such as this may operate in a fixed location only, for in-building use.
For USA:
Reviews
Questions & Answers
QUESTIONS & ANSWERS
Have a Question?
Be the first to ask a question about this.
Ask a Question
Data Sheet / User Guide
Make An Offer
Warning
Note: For any signal booster to help, outside signal strength must be at least -110 dB or there must be a clear line of sight to a cell tower that is within twenty miles. Before ordering, please check outside signal level in decibels or ensure that you can make and hold a phone call at any good spot outside where you can mount an exterior antenna. Square footage stated in signal booster listings is based on good signal outside. If it is any weaker, the boosted sq. ft. area will be considerably lower, accordingly.
Kevin K. of Anderson, California gave the following review:
Website is easy to use with plain straight forward info but could have had more on testing signal strength to make sure you get a strong enough booster.
Therefore, please note that stated sq. ft. coverage is based on good signal outside. For best results: If outside signal is weak, we suggest choosing the next higher sq. ft. coverage kit. If outside signal is very weak, we suggest choosing the kit with even more higher sq. ft. range bracket. Basically, higher the sq. ft. bracket, the more powerful the signal amplifier with greater Gain as well as higher uplink and downlink output power.
If outside signal is too weak (weaker than -110 dB), submit request for cell coverage solution assessment. Upon receipt of questionnaire, we will perform residential or business site survey. This will help us determine the system that is needed to improve cell coverage. Then, we will create system design using that system such as femtocell, active or hybrid distributed antenna system (DAS), or other carrier feed signal enhancing method available that will work at your signal-challenged location. Finally, we will schedule for installation after equipment and installation service quote has been approved by you, or your company.
For non installation-included kits: Most home / office / building cell signal booster kits only include bracket to mount exterior antenna on outside wall, edge of roof, or existing pipe up to 2 inches in diameter. Mounting pole not included with most kits, unless stated specifically that it is included for free. Therefore, a mounting post must be purchased separately if you will require it to mount exterior antenna.
---
Related Products