Black Friday Sale on Signal Booster for Car, Truck, RV & Boat
Nov 03, 2021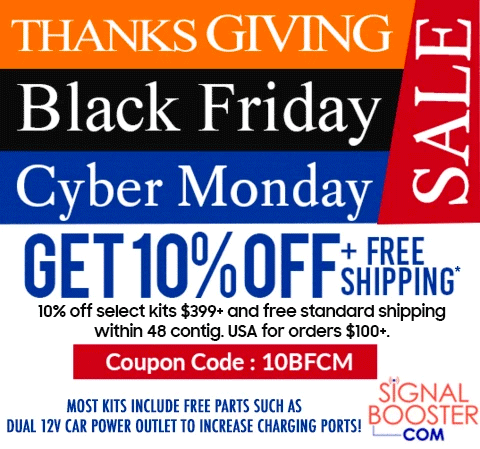 <- Psst, the sale has been extended ->
Black Friday sale deals at SignalBooster.com gets you up to 10% OFF on select vehicle cell phone signal boosters (respective promotion code will appear or "pop-up" on product listing page). Additionally, enjoy extra bonuses plus free shipping on contig. 48 USA orders of $100+. Must use limited time offer discount promo coupon code shown, even after Black Friday, November 26, 2021.
We understand with Thanksgiving, Christmas and the entire holiday season, you will probably be on the road a lot. Rather than stop your life we have the best, high quality and FCC approved car, truck, RV and marine vessels cell phone signal boosters to keep you talking, texting and browsing the internet without disruptions. More importantly, get your vehicle cellular coverage amplifier at 10% off (order total $300+) and we will ship it free!
Vehicle cellular signal amplifiers.
As you drive your RV, truck, car or boat you will be moving farther from the closest cell towers. The signal will be weak, if any at all. Mobile cell phone reception boosters will strengthen your cell signal to enable you to call with your smartphone and browse the web online with your Tablet or Smartphone whenever needed. You will also be able to receive calls, avoid missed and dropped calls while texting and updating family and friends on social media from your boat or car.
Our signal boosters improve reception of voice and cellular networks simultaneously for all users and work with all cell phone carriers across United States and Canada.
Why Black Friday deals?
Since the 19th century, United States has always had a holiday after Thanksgiving. Abraham Lincoln's designation of the fourth Thursday of every November as the Thanksgiving Day culminated in an unofficial day thereafter that kicked off the jolly Christmas season. Today, the day has been christened Black-Friday. It has taken a path of its own since 1952 as retailers open overnight and early in the morning to offer shoppers promotional sales on all manner of items. In about 24 states in the United States, it falls on government employees' public holiday just after Thanksgiving.
To help you kick off the holiday season in style, this 2021 Black Friday pre-sale starting early includes superb vehicle cell phone signal booster kits, free bonus parts, free shipping on USA 48 cong. orders of $100+ and extra 10% OFF order total of $300+!
Whether you're thinking of a boat holiday or road trip, the following examples of discounted cell phone signal boosters will help get you connected with the mainland, family and friends, all the time.
Stream RV Marine Cellular Booster.
Stream is a marine vessel cellular amplifier that boosts 4G LTE, 3G, text and voice networks for all cell providers across North America. Plug and play installation with multiple user support. This marine signal booster kit purchase includes a free 12V Power Splitter that helps open up an extra charging port. It also includes a free Bluetooth headset for handsfree talking on the phone.
N-Range Car, Truck, RV Cell Amplifier.
N-Range is an extremely powerful booster for a single cellular device mounted on its cradle holder. It boosts cell phone voice & data coverage within cars, trucks, boats, RVs. Includes aerodynamic external magnet antenna with a large base with option to mount using firm adhesive provided.
Travel 4G.
Travel 4G is an affordable cell phone booster for budget concious consumers looking for an economical option. It boosts cellular voice, and data coverage within all types of vehicles. Purchase includes free part and accessory that helps provide extra 12v charging port to power this and/or other electronic gadgets. It also includes a free Bluetooth headset for handsfree talking on the phone.
Fusion2Go 3.0.
Fusion2Go 3.0 is proven most powerful vehicle signal booster to date, based on an independent study as detailed in its description. With an omni directional high gain antenna, it boosts 3G, 4G LTE and voice networks for all carriers across North America. Includes all you need for instant installation. Purchase includes a free 12V power splitter for extra charging port and a Bluetooth headset for handsfree talking on the phone.
Fusion2Go RV.
Fusion2Go RV is a powerful cell phone signal booster for all cell service providers. Increases 4G LTE, 3G, text and voice networks. Simple, fast set up offering multiple user support instantaneously. Purchase includes a free 12V power splitter for extra charging port and a Bluetooth headset for handsfree talking on the phone.
Conclusion.
Enjoy free bonus parts, free shipping, additional 10% of your purchases of $300+ for a perfect connected weekend with our discount Black Friday cell phone signal booster sales (same as our cell phone signal booster Cyber Monday sale)!
---
Share this post
---
---