Business Cell Phone Signal Boosters Installed Across USA
Jul 04, 2018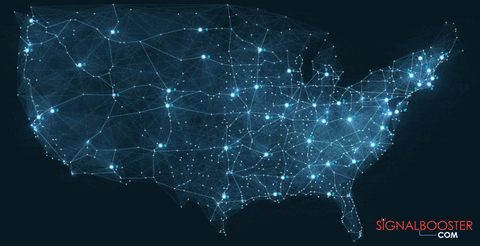 We Have Got You Covered (Literally).
SignalBooster.com offers full-service business cell phone signal boosters and installation services across United States for wall to wall wireless coverage within business buildings.
According to research conducted by infrastructure provider CommScope, there's marked concern regarding who is responsible for providing and maintaining business signal boosters. Among the main challenges respondents cited were the complexity of the system and a lack of skilled workers to manage the infrastructure.
This is where we come in.
Our installation team is certified, licensed, bonded, and insured to guarantee quality installations at every job site. Each active distributed antenna (DAS) and signal booster technician is equipped to install and integrate your active DAS or passive DAS business cell phone signal-boosting system. The results will help you stay on top of your workflow, with no cellular disruptions.
Think unmatched industry experience paired with deep expertise. Our business cell phone signal-enhancing solutions can amplify even the weakest signals by up to 32 times their current strength, allowing workers across the U.S. to enjoy fewer, if any, missed or dropped calls and other cellular disruptions.
In short, our installers and integrators who boast manufacturer certifications such as SureCall, Wilson Electronics, weBoost, Cel-Fi, HiBoost, and others are here at SignalBooster.com to make your job easier.
Our Business Cell Phone Signal Solutions.
At SignalBooster.com, our business cell phone boosters are compatible with all North American carriers. They are ideal in structures with building materials that disrupt user's cell phone signals, or in commercial locations with rugged terrain, clutter, bad weather, or other factors that might hinder user's reception.
All it takes is an existing signal outside, and our business cell boosters will work wonders. If none available, we have ways to get cell service coverage in your facility using an active DAS or Small Cell system for each cellular service provider.
Which business cell phone signal booster is the right fit for your business?
We will detail select few options of passive DAS kits below, just to give you an overview. Please note that the square footage such signal amplifying devices cover varies greatly based on outside mobile signal strength and density of building construction materials that interfere with wireless signals.
For Small Business Buildings:
This solution is ideal for smaller offices and commercial buildings. It boosts voice, text, 3G, and 4G reception for all cell phone providers in the U.S., reducing dropped and missed calls as a result.
Think higher 3G and 4G data speeds. Better reception. Support for multiple wireless devices simultaneously. What's more, the SureCall Fusion 5s can be bundled with additional antenna kits which include the required cables and splitter for even more flexibility to push cellphone coverage in must-have-signal areas.
For Mid-Sized Business Buildings:
If you're looking to boost voice, text, 3G and 4G LTE reception within a medium size building, this is the cellphone booster you need. This solution offers higher downlink power than its predecessor. With its new smart technology, it will not shut down when the outside signal is exceedingly strong to comply with FCC requirements - it will merely lower its power and resume power automatically when signal surge mitigates.
Compatible with all U.S. cell carriers, the SureCall Fusion 5X 2.0 decreases dropped and missed calls while improving 3G and 4G data speeds. It also features automatic decibel (dB) gain and attenuation, which optimizes booster performance and offers maximum reception strength gain, uplink power, and downlink power.
The device can enhance indoor coverage even farther or deeper within a building with the purchase of antenna expansion kits, which include the required cables and splitter with add'l antenna(s).
For Large Business Buildings:
This cell signal boosting solution can enhance coverage throughout large buildings. Not only that, but the device is the first signal booster that can be controlled via mobile application - simply search for, "SureCall App" in Android or Apple Store, and go on to enjoy its Remote Monitoring service.
The SureCall Force5 2.0 offers superior performance even with an overpowering signal, and features a maximum downlink power of 17 dBm. Each band is designed to function in challenging environments. End-users have the option to extend the manufacturer's warranty from three years to a total of five years for continued extended protection.
For Very Big Industrial Business Buildings:
This industrial cell phone signal booster solution supports all 2G, 3G, and 4G LTE standards. It supports more than 100 simultaneous users, making it an ideal solution for very big business industrial buildings.
This industrial cell phone signal booster kit comes with a digitally adjustable uplink and downlink capacity. It boasts Automatic Shutdown and built-in safeguards to prevent cell tower interference. With its quality metal construction, uplink and downlink oscillation detection, and 80 dB gain, the SureCall Force5 Industrial booster is the business cell phone signal booster you need for your industrial structures such as large factories, manufacturing plants, etc. Business owners or managers can also enjoy its industry-leading three-year warranty.
Public Safety Band Signal Booster for Business Buildings of All Sizes:
SureCall Guardian 4 Responder.
Public safety signal boosters amplify signals for First Responder communications inside buildings of all sizes. This public safety band signal booster is equipped to accommodate multiple simultaneous users. It delivers a high-quality signal for those public safety officials who rely on two-way radio communications to protect the general public.
The "SureCall Guardian 3 QR" public safety radio band signal booster where "QR" stands for "Quick Response" enhances signal strength for 700MHz & 800MHz, as well as 900MHz SMR (Specialized Mobile Radio Service) frequency bands. It features include a built-in SureCall Sentry Remote Monitoring System - complete with an Ethernet port as well as adjustable uplink and downlink, Auto Gain Control (AGC) and automatic shutdown. It also has an integrated seven-pin alarm and USB port for public safety signal booster 24 hr. battery backup purposes.
A Seamless Installation Process.
Our team of professional installers and integrators are in full compliance with the Federal Communications Commission (FCC) regulations. This allows us to accommodate our client's business cell phone signal needs while abiding by all external regulations.
The following is an outline of our installation process for business cell phone signal boosters, available across United States:
Site Survey & Floor Plan Analysis:
Our installation process begins with a site survey at your location. We will locate the nearest cell towers, measure the cellular frequency and bands outside your structure, and assess the building interior for detecting all areas with weak, spotty coverage.
Next, our passive or active DAS technicians will go over your floor plans and calculate your building's potential signal coverage, dB gain and loss, required cell signal amplifying equipment and accessories, and other factors designed to suit your needs.
Upon delivery of the Floor Plan Analysis, our team will sit down with you to discuss your coverage expectations and budget. A custom Wifi, active distributed antenna system (DAS), cell phone signal booster system, or a hybrid signal enhancing system design will be provided, along with a quote for a fully-integrated and installed kit.
We will schedule the installation of your signal enhancing system as soon as you accept our plans and put down a deposit. Depending on the size and scope of the project, installation and integration will last anywhere from one day for passive DAS to six weeks or more if an active DAS or Small Cell system is chosen for installation.
To kick off the installation process, our antenna booster technicians will install the kit's exterior antenna(s) on the roof of your building. Antenna(e), based on your preferences, will be Yagi or Log Periodic Dipole Array (LP or LPDA) with parabolic antenna style if needed, or simply omnidirectional.
We will see to it that your building's incoming signal isn't too powerful - a common problem in urban areas. In addition, our team will make adjustments as needed before running the cable(s) into the building.
Next, our signal booster or distributed antenna system technicians will install the signal amplifier or active DAS equipment (whichever system chosen) in a place that provides easy access (the IT room is a popular location for this). They will also conduct a short test to make sure the signal booster base unit or DAS equipment and peripherals are working properly.
The final piece of the puzzle? Installing interior broadcast antennas or radio units to offer the best interior coverage possible. Typically installed in ceilings, dome antennas feature a broad circular 360 degrees pattern coverage area. Panel antennas, on other hand, are installed on walls and most often used for priority areas and long corridors. The cables will run from interior antennas to the signal amplifier in case of passive DAS or head-end unit in case of active DAS.
After installing your signal booster, our signal amplifier technicians will activate your cell amplifier system or active DAS and go through the building with your Floor Plan Analysis in hand. They will compare the new dB readings to those they calculated before installing your kit, with aim of confirming the signal expanding system is working correctly and extending the reach of cellular coverage.
If improvements are needed, our DAS installers will address each problem area, walk you through the results, and have you conduct internet speed and dB reading tests as needed. They will go out of their way to make sure you're comfortable with the system.
Your satisfaction means the world to us and as such, a SignalBooster.com representative will follow up with you within a week of installing your signal booster to make sure everything is working correctly.
Conclusion.
Ultimately, with our business cell phone signal boosters and our public safety band signal boosters for commercial buildings, business owners, their clients and consumers can enjoy stronger reception. Our business DAS installation services make cellular coverage easy.
Call for FREE consultation:
1(855)846-2654
Or submit install questionnaire to get the process started right now.
---
Share this post
---
---