Differences in SureCall Flare/ Flare 3.0, Fusion4Home, Fusion5s
Aug 03, 2019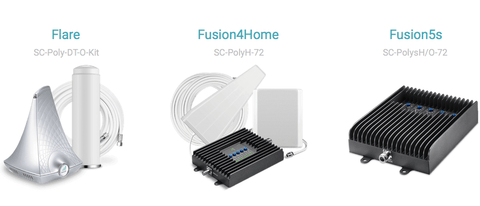 Compare SureCall Flare (SKU SC-Poly-DT-O-Kit), Fusion-4-Home (SKU SC-PolyH-72), and Fusion 5s (SKU SC-PolysH/O-72):
Difference in Gain & Amount of Coverage Area.
The main difference between SureCall Flare / Flare 3.0, Fusion4Home and Fusion5s boosters from layman's perspective is the coverage in sq. ft. that they can provide based on the strength of available outside signal and types of antennas included.
Flare 3.0 & Fusion4Home Yagi/Whip kit are very similar because they both have Yagi exterior antenna and omnidirectional interior antenna. The main difference then would be basically the shape of the base unit - compare images shown at both listings. In the case of Fusion4Home Yagi/Whip kit, interior antenna is a right angle antenna attached to main signal amplifier or basestation. In the case of Flare 3.0, interior antenna is built inside desktop unit which includes both interior antenna and signal amplifier.
The Gain capability is exactly the same for all three model series kits at max 72 dB. "Gain" means how much a cellular amplifier can increase existing outside signal strength measured in dBm (Decibel Milliwatts). They offer slightly different amounts of uplink & downlink strength with Fusion4Home & Flare 3.0 units offering same but Fusion5s offering higher uplink and downlink strength (power of signal from wireless devices sent to cell towers) and downlink strength (power of signal from cell tower to wireless devices).
Such varied factors dictate how much signal amplification can occur to enhance indoor signal reception. For example, Flare & Flare 3.0 can potentially increase signal strength over spaces up to 2,500 sq. ft. (Flare) or 3,000 sq. ft. (Flare 3.0). Therefore, it is intended for small homes. On contrary, Fusion4Home booster kits including Panel antennas are for medium sized homes and offices because it boosts coverage up to 5,000 sq. ft. In ascending order, the last one, Fusion5s, is for big homes and offices up to 7000 sq. ft.
Please note that if outside signal strength where exterior antenna can be placed is weaker, then a more powerful booster will be required to extend that inside coverage space. For example, although you need to cover only up to 2500 sq. ft. home (offered by Flare booster) but have extremely weak outside signal strength, you will need the next more powerful booster (Flare 3.0) to extend indoor cellular coverage for the complete home / office.
Difference in Ease of Installation.
Another major difference between Flare 1.0, Flare 3.0 versus Fusion4Home Non-Whip antenna kits and Fusion 5S kits is that Flare versions (as well as Fusion4Home Whip Antenna versions) have built-in interior antenna. SureCall Fusion4Home kits with Whip antenna, Flare 1.0, and Flare 3.0 require equal amount of effort for installation. The built-in interior antenna inside their base signal amplifier makes it easier to install indoors because there's one less thing to do - No separate inside antenna to install along with its cable run.
Please visit Compare SureCall In-Building Boosters chart for more details on building cell phone signal boosters.
In 2023, SureCall released the SureCall Fusion 5X Max - check out its details for an in-depth look at why this is considered the best of the boosters among its predecessors.
---
Share this post
---
---