Nextivity Cel-Fi vs. Other Brand Wideband Repeaters
Aug 05, 2019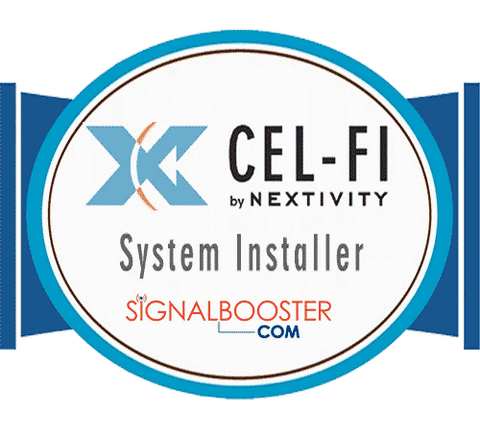 Let us compare most Nextivity's Cel-Fi kits that are single carrier signal boosters (switchable to different carrier with Cel-Fi app) and can only work for one carrier at a time, with other brand wide-band cellular repeaters that work for all carriers simultaneously. This in itself is a major drawback, but there're many upsides or advantages of Cel-Fi kits that may easily outweigh this, and other disadvantages stated below.
---
Advantages:
Higher Gain.
Cel-Fi offers up to 100 dB Gain which is much higher than up to 72 dB Gain that competing bi-directional amplifiers (BDA) offer.
Carrier-grade.
Cel-Fi kits are Carrier-grade smart signal boosters. Cel-Fi shipping on more than 200 carrier networks globally. Over 1,000,000 Cel-Fi units in the field.
Power-Over-Ethernet Nodes.
Cel-Fi QUATRA Coverage Unit (CU) is powered by PoE, to make installation and positioning as easy and simple as possible. This is not the case with other brands.
Downlink (DL) Power (Max).
Cel-Fi Quatra 2000 offers 16 dBm per 20 MHz Band, whereas others offer 14-15 dBm per Band. Therefore, Quatra has much stronger DL power, and a much bigger footprint.
Uplink (UL) Power (Max).
Quatra 2000 offers 20 - 22 dBm per Band, whereas other brand comparable boosters offer 18 - 22 dBm per Band. Cel-Fi QUATRA has independent booster chains per carrier. Competition has one amp, shared across all carriers in band.
Digital Lossless RF Distribution.
Quatra uses lossless Cat 5e (ethernet) cables. Competition uses coaxial cables. Easily cover large or complicated interiors with QUATRA's long distance, no loss, architecture.
Secure, Scalable, Cloud.
Integrated with global carriers. Nextivity is GDPR compliant and SOC2 rated for privacy.
Antenna Pointing Application (proprietary).
Cel-Fi WAVE Antenna Pointing enables Installers to quickly find the best donor signal to optimize booster performance and user experience.
Not Impacted by Near-Far Effect.
A strong undesired donor carrier signal will cause a wideband booster to ratchet back power. This is a significant problem for wideband boosters. A wideband booster can't discern which carrier inbound signals arrive on. Per FCC, its gain for that band limited by the strongest signal. If there's a strong signal and a weak signal detected, the weaker signal will suffer, and boost limited by the stronger one. Cel-Fi only communicates with desired signal and nulls out other interferers. A provider-specific Cel-Fi booster locks into the desired carrier network to boost. It ignores other signals. Cel-Fi applies the maximum amount of gain to the booster for any one carrier at a time to produce the strongest output power allowable under FCC rules.
---
Similarities:
System Monitoring (Cloud).
While most other brands such as Wilson Pro and SureCall now offer Cloud monitoring service within the past year, Cel-Fi WAVE Cloud launched in 2014. It helps monitor alarms and alerts on each node in the system and offers customizable profiles for administration/ management.
App Support for Installation.
Cel-Fi WAVE Mobile App available on IOS and Android. PRO version for Installers shipping later this year in 2019. Other brands including SureCall offers similar functionality using their mobile application.
---
Disadvantages:
Most Cel-Fi kits support a single carrier at a time.
Most Cel-Fi kits offer ability to boost single carrier network at a time (Verizon, AT&T, T-Mobile, and Sprint). Commercial grade Quatra 2000 offers two carriers, two bands at a time. Examples are: Cel-Fi Quatra 2000 Sprint & T-Mobile, and Quatra 2000 Verizon & AT&T. On other hand, other brand boosters offer all-carrier coverage simultaneously. However, Cel-Fi WAVE app enables carrier-switching on the fly, whether connected or offline (no cell service).
Higher Cost, Shorter Return Period Policy.
If you compare prices, you will notice that the cost if Cel-Fi kits is higher by roughly 25%. Secondly, we cannot offer our standard 60 days return policy due to shorter return timeframe set by manufacturer. Lastly, it must be returned in mint condition or it will not be accepted.
---
Conclusion.
Considering both pros and cons, Cel-Fi does have incredible benefits for worst-case outside weak-signal scenarios and issues with its Higher Gain, Less Cable Loss, Near-Far Problem Resolution, etc. to quite easily outweigh its disadvantages. We provide professional Nextivity Cel-Fi smart booster installation service. What are your thoughts about Cel-Fi's advantages and disadvantages? Leave your feedback of Cel-Fi reviews and experiences below in our comments section. Thank you!
---
Share this post
---
---