weBoost Drive Reach Fleet with Fixed Antenna | 470254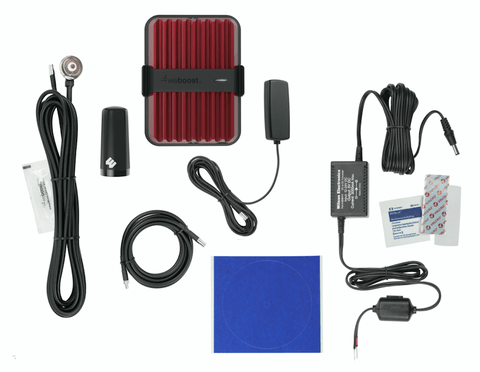 weBoost Drive Reach Fleet with Fixed Antenna | 470254
Regular price

$599.99 USD

Sale price

$524.99 USD
Best Price Guarantee. [1, 2, 3]
Buy Now, Pay Later with No Interest if paid in full within 6-12 months. Choose Klarna payment option at the checkout for details of this, and other long-term low-interest financing options.
Free Lifetime Support. SKU / Model: 470254
Best Price Guarantee [1 2 3]
Call for FREE consultation:
1(855)846-2654
Need installation quote, or help with designing a custom solution? Submit a request for quote.
Description
Reviews
Questions & Answers
Data Sheet / User Guide
Make An Offer
Warning
Description
Product Description
Wilson weBoost presents the Drive Reach Fleet (weBoost 470254) in-vehicle cell phone signal booster. Works with all Carriers in USA & Canada. It is a powerful booster that has been specifically designed for government, law enforcement, and commercial fleet vehicles. This powerful in-vehicle signal booster delivers a whopping 29.5 dBm of uplink output power. That is an increase in signal output of 5 dB! With the enhanced signal strength output, you can be assured that your fleet drivers can stay connected and communicate seamlessly wherever they may be.
5G Ready - This weBoost booster will work for the next decade and beyond.
Emergency vehicle equipment, Wilson weBoost 4G cell booster with antenna and coax is ideal for Ford Explorer, Chevrolet Silverado, Jeep Grand Cherokee, Ford F-150 but can be fitted into all other vehicle makes and models. For labor cost of installation of this cell phone booster inside multiple police, ambulance, and other emergency vehicles, request vehicle cell phone booster installation service Installation service available in all 50 U.S.A., and all Canadian provinces.
Unlike most other vehicle cell phone signal boosters we carry, this weBoost Fleet signal booster does require professional installation. You can have this vehicle cellphone signal booster kit installed at your local city or town automotive repair or auto accessories shop that has experience with installing Laird Phantom NMO antennas drilled through the roof or trunk. Hardwire power kit included also requires connecting the power supply cord to automobile battery per installation instructions included which they should also be able to accomplish. Or you can preferably have us install weBoost fleet booster for you, at an add'l installation cost.
Capable of boosting data and voice signal for multiple users, the Drive Reach Fleet in-vehicle cellphone booster simultaneously boosts signal for all cellular connected devices within the fleet vehicle.
Enhancing signals and speeds for all available wireless networks with 50 dB system gain, the Drive Reach Fleet by weBoost/ Wilson Electronics delivers the maximum Gain allowed by the FCC. Similar to all weBoost products, the Drive Reach Fleet comes complete with a 2-year warranty and a 60-day money-back guarantee from SignalBooster.com. This powerful in-vehicle signal booster is compatible with all major mobile carriers in the United States including Sprint, Verizon Wireless, US Cellular, T Mobile, AT-T Wireless, Straight Talk, and more.
Please Note: Because weBoost's Drive Reach Fleet cell signal booster kit contains a high-performance NM0 antenna and hardwired power supply, this booster requires professional installation.
4G NMO Antenna - A Permanent Durable Solution:
To effectively install weBoost Fleet Drive, the kit includes all that is needed such as the NMO (New-Motorola) antenna requiring expert professional vehicle roof mount installation to set it up perfectly. NMO antenna is a highly powerful antenna allowing the maximum 50dB (decibel) system gain approved by the FCC (Federal Communications Commission). It improves 2G, 3G and 4G LTE data and voice signal by 32 times.
Features:
This powerful in-vehicle cell booster simultaneously boosts 3G and 4G LTE signals for multiple cellular devices in fleet vehicles such as delivery vehicles, service vehicles, Police and other Government Department vehicles, and so on.
Even in weak signal areas, fleet managers can easily track vehicles due to the boosted signal strength for cellular-based tracking devices in their vehicles.
It works simultaneously with all carriers and all cellular devices in the vehicle. Cellular range is increased, data speeds are faster, and wireless call quality is vastly improved.
Professional installation is required due to the fact that this mobile booster uses a high-performance thru-hole NM0 antenna (Laird Phantom).
Benefits:
This Is a Powerful In-Vehicle Signal Booster.
The weBoost Drive Reach signal booster has an increase in uplink-output power of 5 dB, which means it can move cell signal twice as far from towers as the Drive 4G-X, our previous model of in-vehicle signal booster.
With its smart metallic-red exterior, the Drive Reach Fleet incorporates a unique fin design for extra surface area. The result is that excess heat is displaced and peak performance is maintained.
weBoost's Exclusive Commercial Cell Signal Booster.
The Drive Reach Fleet is an exclusive commercial in-vehicle cell signal boosting system designed to boost signal for all cellular-based fleet tracking devices, thus providing fleet managers with optimal vehicle tracking capabilities.
How Drive Reach Fleet Booster Kit Works:
It picks up existing weak signals with a high-gain 4G LTE antenna. Then it amplifies that signal numerous times with Wilson Cellular Booster's patented SmarTech III technology. The boosted signals easily bypass all exterior obstructions and provides the signal directly inside a typical driver cabin area. Exterior antenna is 4G LTE NMO which is permanently fixed on roof of vehicle or on its trunk. Refer to weBoost NMO 4G LTE Vehicle Omni Antenna for more details of this clean installed antenna that leaves no loose wires on the roof of vehicle.
weBoost has been solving cellular reception problems for more than 4 decades with signal boosters that are IC and FCC certified. They improve weak signals in both the city and remote rural areas. This kit contains all parts required for a full installation but it needs to be installed by a professional in-vehicle installer.
Carriers Supported:
This fleet vehicle cellular signal booster can be used for boosting network reception of all major US carrier networks except Sprint LTE Plus. It supports 700 MHz, 850 MHz, 1900 MHz, and AWS 1700/2100 MHz.
Drive Reach Fleet cell phone booster kit (item # weBoost 470254) includes:
Drive Reach Fleet Cell Phone Amplifier/ Repeater (470054).
Inside 4G Slim Low-Profile Antenna (314419).
12V Hardwire Power Supply (850022).
3/4 inch NMO Mount with 14 feet cable (904423 UPC

810005960557)

.
6 ft. RG58 extension cable.
Hole drilling protective tape.
O-ring sealant.
Specifications of Amplifier Model 470054 w/Product # U470054:
| | |
| --- | --- |
| Frequency | 700 MHz - Band 12/ 13/ 17, 850 MHz - Band 5, 1700/ 2100 MHz - Band 4, 1900 MHz - Band 25/ 2. |
| Maximum Gain | 50 Decibels (dB) |
| Impedance | 50 Ohm |
| Voltage / Power | 5V/ 4.5A |
| Connectors | SMB |
| Dimensions | 6 x 4.5 x 1.5 inches (amplifier) |
| Weight | 1.80 (amplifier only) |
| Alternate Part #'s | WA470254, WA470254R, WA470254F / WA650254, 470254, 470254R, 470254F / 650254 |
| weBoost 470254 (USA) UPC | 810005960458 |
Note: Works with all Carriers in USA & Canada. If ordering to be shipped to Canada, Canadian version (470254F / 650254) of this kit will be shipped.
Installation:
This fleet vehicle cell phone booster kit requires professional installation.
CELL SIGNAL BOOSTER FOR ALL TYPE FLEET VEHICLES.
Consumer Alert:
Reviews
Questions & Answers
QUESTIONS & ANSWERS
Have a Question?
Be the first to ask a question about this.
Ask a Question
Data Sheet / User Guide
Make An Offer
Warning
Note: For any signal booster to help, outside signal strength must be at least -110 dB or there must be a clear line of sight to a cell tower that is within twenty miles. Before ordering, please check outside signal level in decibels or ensure that you can make and hold a phone call at any good spot outside where you can mount an exterior antenna. Square footage stated in signal booster listings is based on good signal outside. If it is any weaker, the boosted sq. ft. area will be considerably lower, accordingly.
Kevin K. of Anderson, California gave the following review:
Website is easy to use with plain straight forward info but could have had more on testing signal strength to make sure you get a strong enough booster.
Therefore, please note that stated sq. ft. coverage is based on good signal outside. For best results: If outside signal is weak, we suggest choosing the next higher sq. ft. coverage kit. If outside signal is very weak, we suggest choosing the kit with even more higher sq. ft. range bracket. Basically, higher the sq. ft. bracket, the more powerful the signal amplifier with greater Gain as well as higher uplink and downlink output power.
If outside signal is too weak (weaker than -110 dB), submit request for cell coverage solution assessment. Upon receipt of questionnaire, we will perform residential or business site survey. This will help us determine the system that is needed to improve cell coverage. Then, we will create system design using that system such as femtocell, active or hybrid distributed antenna system (DAS), or other carrier feed signal enhancing method available that will work at your signal-challenged location. Finally, we will schedule for installation after equipment and installation service quote has been approved by you, or your company.
For non installation-included kits: Most home / office / building cell signal booster kits only include bracket to mount exterior antenna on outside wall, edge of roof, or existing pipe up to 2 inches in diameter. Mounting pole not included with most kits, unless stated specifically that it is included for free. Therefore, a mounting post must be purchased separately if you will require it to mount exterior antenna.
---
Related Products