Cel-Fi PRO for AT&T 3G 4G LTE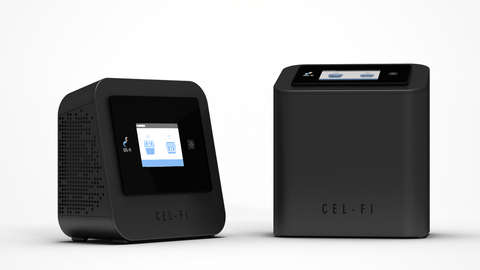 Cel-Fi PRO for AT&T 3G 4G LTE
Regular price

$800.00 USD

Sale price

$741.99 USD
Best Price Guarantee. [1, 2, 3]
Buy Now, Pay Later with No Interest if paid in full within 6-12 months. Choose Klarna payment option at the checkout for details of this, and other long-term low-interest financing options.
Free Lifetime Support. SKU / Model: 590NP34GWUS1ATUS1B14-A
Best Price Guarantee [1 2 3]
Attention please:
Cel-Fi kits are an exception to our standard return policy and do not qualify for our 60 days money back guarantee. In addition, they do not qualify for any discount offers nor any coupon codes.
Due to Cel-Fi manufacturer requirements regarding returns of their Cel-Fi kits - this kit, if returned, must be returned in "mint condition" within 30 days of purchase date. If not received in mint condition within 30 days of purchase, the manufacturer will not accept the return and the kit will have to be returned back to you - no refund will be issued.
Thank you for your co-operation regarding this important matter.
Call for FREE consultation:
1(855)846-2654
Need installation quote, or help with designing a custom solution? Submit a request for quote.
Description
Reviews
Questions & Answers
Make An Offer
Warning
Description
Product Description
Cel-Fi PRO Signal Booster for AT&T 3G, 4G & 4G LTE. Available with, and without external antenna connector - Choose from drop-down menu. Signal amplifier model # P34-2/4/5/12 or SKU 590NP34GWUS1ATUS1B14 (New, Stock A) or 590NP34NEXT1NEXT1B11 is without EXA, and model # P34-2/4/5/12_EXA or SKU 590NP34GWUS2ATUS1B14 (New, Stock A) or 590NP34NEXT2NEXT1B11 is with EXA. For AT&T users who find themselves experiencing dropped calls and dead zones, now all you need is one bar to boost your signal to five. Nextivity has rolled out the new Cel-Fi PRO Signal Booster for AT&T, and its everything you could want and more.
External Antenna Adapter Version vs Non-EXA Version.
Cel-Fi PRO EXA variants feature an external antenna connector to enable the use of an external Donor antenna. A Cel-Fi PRO EXA with an external Donor antenna can thereby acquire an outside signal, allowing it to be used in applications where no signal is present indoors (i.e. cement, metal walls, etc.). This opens up new opportunities for using Cel-Fi PRO Smart Boosters when other solutions fail. Cel-Fi PRO EXA enables cellular coverage in hard to reach places by allowing the Cel-Fi Network Unit to be placed, where no service exists.
Note: The Cel-Fi PRO for AT&T version with external antenna connector does NOT include external antenna and cable - those must be purchased separately.
All you need to do is find a place in your home or office where your AT&T network phone receives at least one bar of usable 3G, 4G or 4G LTE cellular signal. Once this is done, you simply place your coverage unit in the area, and it will enhance the signal picked up by the network needed and provide you with coverage you need; minimizing dead zones and dropped call. This is the new version. Old version part number was 590NP34ATUS1ATUS1B14. New version part number we stock is: 590NP34GWUS1ATUS1B14. Part # for kit with external antenna connector is 590NP34NEXT2NEXT1B11 or 590NP34GWUS2ATUS1B14 (same, both have EXA).
The CelFi PRO is made up of two separate units. The window unit captures signals from the closest AT&T cell tower within range and sends it inside the building, where the coverage unit then takes over by providing boosted signals in the surrounding home or business. Since network signals are often blocked or weakened by the presence of walls, these two units work in tandem to combat the issue. Automatic channel selection feature on the 5 GHz link makes sure there's no interference with Wi-Fi routers, cordless phones, baby monitors etc.
With a 100dB boost approved by the FCC, this signal booster is the only one approved to function with the AT&T network, provides faster and wider coverage of up to 13,000 ft. in the home or office, and can support up to sixty users at a time. It works with 3G, 4G & 4G LTE networks, and provides quad band boosting in bands 2 (1900MHz), 4 (1700/2100MHz), 5 (850MHz) and 12/17 (700MHz). This is made possible by the built in Cel-Fi Baseband Processor that enables the signal booster to adapt to HSPA and LTE network environments, without interfering with other networks and nearby devices using 3G, 4G and 4G LTE network technologies.
This Cel-Fi PRO comes with one (1) Network Unit with EXA port, one (1) Coverage Unit, two (2) Power Supplies, two (2) Mounting Brackets and a Quick Start Guide. Cel-Fi PRO warranty period is two years from the date of purchase.
These work for all cellular devices on AT&T Wireless network and of course for the AT&T MVNO's (Mobile Virtual Network Operators) that resell services on the same AT&T network including the following:
420 Wireless.
Aeris Communications, Inc.
AirVoice Wireless.
Black Wireless.
Boom Mobile.
campusSIMs.
Consumer Cellular.
Cricket Wireless.
Defense Mobile.
FamilyTalk Wireless
Flash Wireless.
good2GO Mobile.
H2O Wireless.
KDDI Mobile.
Jolt Mobile.
Net10 Wireless.
Pix Wireless.
Pure TalkUSA.
Red Pocket Mobile.
SkyView Wireless.
Straight Talk.
TracFone.
UWT Mobile.
Note: Cel-Fi manufacturer requires returns be in mint condition or will incur re-stocking fee of 25%. Please ensure that if this brand product item has to be returned, it must be received in mint, resaleable condition. Thank you very much.
Consumer Alert:
Reviews
Questions & Answers
Data Sheet / User Guide
Make An Offer
Warning
Note: For any signal booster to help, outside signal strength must be at least -110 dB or there must be a clear line of sight to a cell tower that is within twenty miles. Before ordering, please check outside signal level in decibels or ensure that you can make and hold a phone call at any good spot outside where you can mount an exterior antenna. Square footage stated in signal booster listings is based on good signal outside. If it is any weaker, the boosted sq. ft. area will be considerably lower, accordingly.
Kevin K. of Anderson, California gave the following review:
Website is easy to use with plain straight forward info but could have had more on testing signal strength to make sure you get a strong enough booster.
Therefore, please note that stated sq. ft. coverage is based on good signal outside. For best results: If outside signal is weak, we suggest choosing the next higher sq. ft. coverage kit. If outside signal is very weak, we suggest choosing the kit with even more higher sq. ft. range bracket. Basically, higher the sq. ft. bracket, the more powerful the signal amplifier with greater Gain as well as higher uplink and downlink output power.
If outside signal is too weak (weaker than -110 dB), submit request for cell coverage solution assessment. Upon receipt of questionnaire, we will perform residential or business site survey. This will help us determine the system that is needed to improve cell coverage. Then, we will create system design using that system such as femtocell, active or hybrid distributed antenna system (DAS), or other carrier feed signal enhancing method available that will work at your signal-challenged location. Finally, we will schedule for installation after equipment and installation service quote has been approved by you, or your company.
For non installation-included kits: Most home / office / building cell signal booster kits only include bracket to mount exterior antenna on outside wall, edge of roof, or existing pipe up to 2 inches in diameter. Mounting pole not included with most kits, unless stated specifically that it is included for free. Therefore, a mounting post must be purchased separately if you will require it to mount exterior antenna.
---
Related Products