An item you're pre-ordering is on backorder so it will take few days to ship - are you sure you want to proceed to order it?
Close
SureCall Fusion2Go 3.0 RV / Marine Canada 3G 4G LTE Signal Booster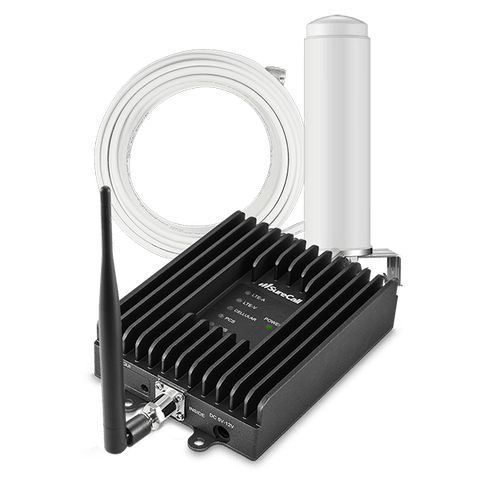 SureCall Fusion2Go 3.0 RV / Marine Canada 3G 4G LTE Signal Booster
Regular price

$575.00 USD

Sale price

$538.45 USD
Best Price Guarantee. [1, 2, 3]
Buy Now, Pay Later with No Interest if paid in full within 6-12 months. Choose Klarna payment option at the checkout for details of this, and other long-term low-interest financing options.
Free Lifetime Support. SKU / Model: SC-PolyM3-50-MARINE-CA
Best Price Guarantee [1 2 3]
Call for FREE consultation:
1(855)846-2654
Need installation quote, or help with designing a custom solution? Submit a request for quote.
Description
Reviews
Questions & Answers
Data Sheet / User Guide
Make An Offer
Warning
Description
Product Description
SureCall Fusion-2-Go 3.0 RV/ Marine Canada cell phone signal booster is currently the most powerful Marine cell phone signal booster in the market.*
It increases cellular signal strength for talk, text, 3G & 4G LTE Internet wireless signals on all Canadian mobile carriers. SureCall Fusion2Go Marine 3.0 amplifier reduces dropped and missed calls and extends battery life for multiple simultaneous users. It provides clear and consistent coverage for all cellular devices inside a boat, ferry, ship or yacht. It is newer version than earliest Cellphone-Mate SureCall CM2000. This is the latest SureCall Fusion To Go new 3.0 version of the earlier "Fusion2Go RV / Marine Version 2.0". Earlier version Canada kit was Canadian 2.0 RV / Marine version. SureCall Fusion2Go 3.0 Marine USA version is also available.
For small vehicles such as cars, trucks, SUVs, mini-vans, etc. - The non-Marine Fusion 2Go 3.0 USA and Fusion 2Go 3.0 Canada are also available.
New version 3.0 SureCall FusionToGo Marine/ RV signal booster kit is designed for use in over-sized vehicles such as ferries, ships, yachts and big boats. It provides 50 db 5-band signal boosting for voice and text messages, and improves data and connectivity for all mobiles and devices within the vehicle.
SureCall Fusion2Go 3.0 Marine/ RV is the new champion of the seas: Independent Tests Prove 2X More Power & Fastest Data Speeds*.
Averaging 2X more uplink power, the SureCall Fusion2Go Marine 3.0 is better equipped to support multiple simultaneous users performing multiple actions.*
Farther off the coast, the SureCall Fusion2Go 3.0 RV/ Marine uses it's 2X higher amplification power to better access faraway cellular towers, keeping you connected further into the fringe of the network.*
Oceanic environments present many challenges for cellular devices. 2X more uplink power allows your device to make more with less to keep calls connected, texts deliverable, and data at your fingertips.*
Sending texts, videos, images, or using mobile apps is reliant on a strong 3G or 4G LTE signal. While both weBoost Drive 4G-X (470510) and SureCall Fusion2Go 3.0 signal booster kits support these signals, the SureCall Fusion2Go 3.0 sends and receives those data transmissions faster than the closest competitor.*
*Validated within 3rd party test by CKC Laboratories, Inc.
The Value Behind the Results.
POWER THAT PUSHES THE BOUNDARY.
In large lakes and offshore seas on the extreme fringe of the network, users need a booster with more uplink power. Typically the reason your calls drop, texts go unsent, and data fails in these situations stems from your phone not having enough power to send a signal back to the nearest tower. The SureCall Fusion2Go 3.0 has the 2X the strength to get that signal back to the tower, keeping you connected further into the cellular void.*
SPEEDING TICKET WORTHY DATA SPEEDS.
When transferring data through your mobile device – sending texts, videos, images, using applications, etc. – users need a high-quality amplifier with a lower downlink ripple and error vector magnitude (EVM). The SureCall Fusion2Go 3.0 outperformed the competition to more reliably send and receive data in tough-to-reach areas.*
ALL CARRIERS. ALL SIGNALS. ALWAYS COVERED.
SureCall Fusion2Go 3.0 works with every cellular provider in Canada, supports all signals within each cellular provider's range, and, once installed, you can have the power of the best marine vessel booster on the market at your side. We stand by the performance and quality of the Fusion2Go 3.0 and all other SureCall products so much that we offer the industry's best customer satisfaction suite; 60-day money back guarantee, 3-year warranty, and lifetime support.
About the SureCall Fusion2Go Marine 3.0.
SureCall Fusion2Go 3.0 Marine is the newest generation to a line of signal boosters that has kept drivers and riders connected in areas with critically low cellular signal strength. This cell phone signal booster kit is purpose-built for mobile users who often find themselves on the edge of their cellular network.
Fusion2Go 3.0 is a powerful piece of technology that installs in your marine vehicle to provide multiple simultaneous users with reliable access to calling, text, and mobile data through 3G and 4G LTE.
RV Signal Booster Kit Part # SC-PolyM3-50-MARINE-CA (with UPC 697691003795 and American English language user guide) includes the following:
Sure Call Fusion2GoRV 3.0 cell phone signal amplifier.
Omni roof-mounted antenna.
Interior whip antenna.
Standard DC and AC power adapters.
This Cell Phone Signal Booster for Marine Vehicles also includes a Free Magnetic Cellular Phone Mount.
It is easy to install with automatic Gain adjustment up to 20 dB, and you don't even need a docking station for your mobiles. 
With this cell phone signal booster for boats and ships, you never have to miss or drop a call or text again when vacationing off-shore many miles away. It is perfect for improving connectivity in large vehicles. UPC: 697691003795.
Who Is It For?
SureCall Fusion-2-Go 3.0 Marine edition is same as RV edition. It is beneficial for anyone who wants extra coverage for mobile calls, texts, and internet while on the move, and is suitable for use in larger vessels and vehicles. Bought a Yacht to travel offshore Canada? Don't forget to buy and install this neat piece of equipment! If your concern is a weak cell phone signal that could keep you from communicating wirelessly with your family and friends, this is a must have mobile gadget and accessory. Wireless communication is very important - not only to enjoy speaking to family and friends but for safety in case you encounter any type of mechanical problem with your vehicle. 
SureCall Fusion 2Go 4G cell phone signal booster for marine vessels works with all types of cell phones with 3G and 4G connectivity and with all carriers in Canada. It gives you boosted connectivity on the move or when parked for extended periods of time.
How Does It Work?
Mount exterior antenna on the roof of your vessel or other large vehicle. It will receive a signal from any cell towers within range, and amplify it to enhance signal by up to 50db. A whip antenna in your cellular signal amplifier inside of your vehicle like under the deck will then broadcast the signal where needed, and all mobile users will receive more bars, and a better experience.
What Does It Work With?
You can use the SureCall Fusion2Go Marine 4G Cell Phone Signal Booster with:
Any make or model of marine vessel, or other large vehicle with lots of room inside. Works with any Canadian cell carrier. Any mobile device that has 2G, 3G, 4G, or 5G wireless connectivity. The system operates on Uplink Frequency Ranges (MHz): 698-716 / 776 – 787 / 824-849 / 1850-1915 / 1710-1755 (G Block Included). The system operates on Downlink Frequency Ranges (MHz): 728-746 / 746 – 757 / 869-894 / 1930-1995 / 2110-2155.
Why Is It Unique?
SureCall Fusion2Go 3.0 Marine 3G 4G LTE cell phone signal booster has a number of impressive features that make it stand out from the competition, including:
Stealth functionality that puts the system in active mode to conserve power when you're not using your device. IC (Industry Canada) approved for use Canada-Wide. Allows for both manual and automatic adjustments in signal strength. Very easy to install with plug and play operation. Technology that eliminates interference for optimal performance. Industry-leading 3-year warranty from SureCall.
This SureCall cell phone signal booster for Marine vessels is comparable to Wilson Electronics brand weBoost Drive 4G-X with Marine Essentials Kit (470510-M).
From the manufacturer:
Summary.
Boosts voice, text, 3G & 4G LTE signals for all North American cell carriers.
Reduces dropped and missed calls.
Increases signal strength & extends battery life for all cellular devices.
Supports multiple users simultaneously.
Sets up in minutes - simple plug and play install.
Overview.
Fusion2Go-RV 3.0 for boats and yachts boosts voice, text and 4G LTE for all major North America cell carriers including Rogers, Telus, Bell, and Freedom Mobile. SureCall cell phone signal boosters are ideal for use with hands-free cell phone systems or Bluetooth devices. 
Dropped calls and slow data speeds are history, as the Fusion2GoMarine 3.0 provides clear and consistent coverage for multiple cellular devices in any vehicle. End the frustration of weak and unreliable cellular signal with the Fusion2Go-Marine 3.0.
Includes: Version 3.0 Fusion2Go-Marine cell phone booster, omni roof-mounted antenna, interior whip antenna, standard 12V DC power adapter and standard wall-outlet AC power supply.
This 2G, 3G, 4G LTE cellular signal booster for on-water vehicles is compatible with following Canadian wireless service providers:
Canadian Service Providers
Bell Mobility
Telus Mobility
Rogers Wireless
Freedom Mobile
Chatr
Fido
Ice Wireless
Koodo Mobile
Tbaytel
MTS
NorthernTel
Public Mobile
SaskTel
Videotron
Virgin Mobile Canada
Fusion2Go-Marine 3.0 Specifications.
| | |
| --- | --- |
| Frequency | Uplink Frequency Range (MHz): 698-716 / 776-787 / 824-849 / 1850-1915 / 1710-1755 (G Block Included) Downlink Frequency Range (MHz): 728-746 / 746 – 757 / 869-894 / 1930-1995 / 2110-2155 (G Block Included). |
| Input Impedance | 50 ohm |
| Maximum Gain | 50 dB |
| VSWR | ≤2.0 |
| Standard Supported | CDMA, WCDMA, GSM, EDGE, HSPA+, EVDO, LTE and all cellular standards. |
| Gain Adjustment | 20 dB (Automatic). |
| DC Power | 6-15V |
| Maximum RF Output Power | 3 Watts EIRP |
| Noise Figure | ≤ 5 dB |
| Cable Type | SC-240 |
| RF connectors | FME Male (both ends) |
| Exterior Antenna Cable Length | 40 Feet |
| Power Consumption | <10W |
| Dimensions | 5.625" x 4" x 1.125" |
| Weight | 1.43 lbs. |
SureCall Fusion2Go 3.0 Canada Marine Signal Amplifier Bands and Frequencies.
FREQUENCY
BAND 17
700 MHz
 
BAND 13
700 MHz
 
BAND 5
850 MHz
 
BAND 4
1700/2100 MHz
 
BAND 25/2
1900 MHz
Alternate Part Numbers:
SC-PolyM3-50-Marine-CA
SCPolyM350

Marine

CA
PolyM3-50-

Marine

-CA
PolyM350

Marine

CA
The most powerful Marine booster in Canada. Designed to keep customers connected in faraway offshore remote areas. Includes roof-mount omni antenna, indoor whip antenna, 40 ft coax cable, DC power supply and AC power supply.
For Canada:
This is a consumer device.
BEFORE USE, you must meet all requirements set out in CPC-2-1-05.
You MUST operate this device with approved antennas and cables as specified by the manufacturer. Antennas MUST NOT be installed within 20 cm (8 inches) from any person.
You MUST cease operating this device immediately if requested by ISED or a licensed wireless service provider.
WARNING. E911 location information may not be provided or may be inaccurate for calls served by using this device.
In addition, Consumer Zone Enhancers certified for mobile operation such as this may operate in a mobile in-vehicle or fixed in-building location.
Reviews
Questions & Answers
QUESTIONS & ANSWERS
Have a Question?
Be the first to ask a question about this.
Ask a Question
Data Sheet / User Guide
Make An Offer
Warning
Note: For any signal booster to help, outside signal strength must be at least -110 dB or there must be a clear line of sight to a cell tower that is within twenty miles. Before ordering, please check outside signal level in decibels or ensure that you can make and hold a phone call at any good spot outside where you can mount an exterior antenna. Square footage stated in signal booster listings is based on good signal outside. If it is any weaker, the boosted sq. ft. area will be considerably lower, accordingly.
Kevin K. of Anderson, California gave the following review:
Website is easy to use with plain straight forward info but could have had more on testing signal strength to make sure you get a strong enough booster.
Therefore, please note that stated sq. ft. coverage is based on good signal outside. For best results: If outside signal is weak, we suggest choosing the next higher sq. ft. coverage kit. If outside signal is very weak, we suggest choosing the kit with even more higher sq. ft. range bracket. Basically, higher the sq. ft. bracket, the more powerful the signal amplifier with greater Gain as well as higher uplink and downlink output power.
If outside signal is too weak (weaker than -110 dB), submit request for cell coverage solution assessment. Upon receipt of questionnaire, we will perform residential or business site survey. This will help us determine the system that is needed to improve cell coverage. Then, we will create system design using that system such as femtocell, active or hybrid distributed antenna system (DAS), or other carrier feed signal enhancing method available that will work at your signal-challenged location. Finally, we will schedule for installation after equipment and installation service quote has been approved by you, or your company.
For non installation-included kits: Most home / office / building cell signal booster kits only include bracket to mount exterior antenna on outside wall, edge of roof, or existing pipe up to 2 inches in diameter. Mounting pole not included with most kits, unless stated specifically that it is included for free. Therefore, a mounting post must be purchased separately if you will require it to mount exterior antenna.
---
Related Products