Pricewise Cheapest, and the Best-Value Cell Boosters
Dec 01, 2019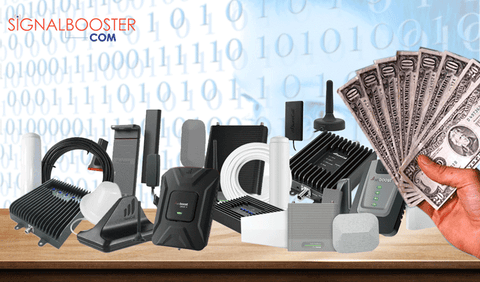 Today, everyone has a smartphone. In fact, many people have two – one for personal use and one for business. Old people have smartphones, and very young children have smartphones. It does make you wonder how we survived before we became so reliant on our smartphones. Did you know that recent estimates suggest that in United States alone there're over 200 million smartphone users? That is a lot of mobile connectivity! 
And what do all these smartphone users demand? Most smartphone users are very tech savvy and they demand to know that they are getting good value for their money.
Consumer Reports carried out a recent survey in which they discovered that most people have been with their mobile carrier for longer than two years, and their reason for staying with their carrier was usually reliability of service. While others admitted they had considered leaving their carrier, they were yet to find a carrier offering better reception or more reliable network coverage.
Cell Phones Signal Boosters.
Fortunately, no cell phone user today needs to go through the expense or inconvenience of switching carriers. Today's innovative cell phone signal boosters resolve all issues of poor reception and network coverage. With a pricewise cheapest or a good value cell phone signal booster, you can improve the reliability and quality of both voice and data service, while still staying with your current carrier. And, regardless of where improved cell coverage is required, there is an affordable solution for you.
Reliable Cell Signal While on the Go!
Today, it seems that we spend a considerable amount of time in our vehicles, whether we're on location, shopping, visiting family or friends, or simply going to work every day. Statistics show that commuters spend roughly one hour a day driving, which averages out to 2 weeks out of every year behind the wheel of our vehicle. For some people, driving is just part of their job and they spend all day out on the road. It is very important that all drivers have access to reliable cell coverage while in their vehicles. For some, this will mean staying connected to travel apps or GPS, being able to communicate with work colleagues, or simply knowing they have the ability to contact friends and loved ones.
Quality does not have to be forsaken for price.
The Most Affordable Cell Phone Boosters for Vehicles:
Hello Drive Sleek and N-Range Single User Vehicle Cell Boosters.
Both the weBoost Drive Sleek and SureCall N-Range single device boosters cost under $200, making them affordable to most users. Both have an in-cradle design, suitable for almost all types of vehicles where reliable and strong cell signal coverage is required.
Innovative cradle design allows for phones ranging between small to large in length, and comes complete with an aerodynamic outdoor antenna and a charging port. Both are compatible with all major carrier networks in United States and Canada.
These particular kits have been designed for single phone use (because they offer up to 23 dB Gain), so if you're looking for a signal booster that will deliver improved cell signal for multiple devices and users at any one time, then look no further than the Drive X or Fusion2Go 3.0!
Best Value Cell Signal Boosters for Vehicles:
Drive X & Fusion2Go Max Multi-User Vehicle Cell Boosters.
The weBoost Drive X & SureCall Fusion2Go 3.0 cost under $400 and are the best value Van, Truck, RV boosters for the price and the power they offer for multiple cell devices simultaneously (up to 50 dB Gain - Max allowed by FCC in moving on-road vehicles).
These're professional-grade signal boosters, used and trusted by first responders because of their ability to maintain strong signals when time is of essence. Because of its reliability, these have become the go-to signal boosters for light commercial and recreational use. These boosters deliver the strongest and most reliable cell signal possible for multiple devices and users at any one time. They come complete with instruction manual and everything you need for quick and easy installation.
Reliable Cell Signal While at Home or Work!
The Most Affordable Signal Boosters For Where You Live & Work:
Is there anything more frustrating than having to put up with dropped or missed phone calls and slow, inconsistent data speeds? Today, fortunately, we have signal boosters to help deliver fast, strong, and reliable cell signal to buildings, including homes and small or large offices and buildings.
However, with today's modern-day buildings being designed to be energy efficient, incoming cellular signal can be blocked by innovative building materials, metal construction and thick insulation. And there are other environmental conditions like trees, that cause interference to cell signal. In the south-west regions and west coast, the stucco designs and exterior brick wall construction of older homes create a natural barrier, affecting the reliability and strength of cell signal.
Pricewise cheapest, but top rated for quality - The Home Room and Fusion4Home signal boosters can resolve all these issues.
Home Room & Fusion4Home Signal Boosters.
The basic weBoost Home Room and SureCall Fusion4Home signal boosters are great quality and pricewise the cheapest if you have good coverage outside and need to cover small area inside like an office cubicle or a room inside home. They cost just under $400 and $300, respectively. These innovative signal boosters will boost cell signal coverage in spaces approximately 1,000 to 2,000 ft² in a small office or one or two residential rooms.
With many people working from a home office, it is imperative that they have access to reliable cellular signal, with guaranteed fast data speeds and no dropped or missed calls. These're powerful yet affordable boosters with the ability to deliver improved signal to multiple users and devices simultaneously. Recent research has revealed that the average household in United States has a minimum of 10 connected devices, which shows that the need for signal boosters to support multiple users is huge.
These're ideal boosters for small home or small office installation setups, remembering that there is always a trained technician on-call ready to help DIYers should you run into a problem. These DIY install kits come complete with both indoor and outdoor antenna, plenty of coaxial cable, and power supply.
The Best Value Boosters For Where You Live & Work:
When it comes to cell phone signal boosters, one size may not fit all situations. There're instances when signal outside is not strong where the cheapest booster can get the job done. In other instances, the coverage space needed indoors is much larger than roughly one to two thousand square feet that the lowest cost boosters can cover.
These're instances where a powerful cell phone signal booster is required to get the job done. Stronger cellular amplifiers offer higher "Gain" meaning they can amplify outside signals many times more. However, since they consist of more complex circuitry, they cost more.
Our best value boosters Home Multi-Room, Home Complete, and Fusion 5s have the power needed to cover much larger spaces indoors or can provide needed coverage indoors despite weaker signal outside.
Home Multi-Room, Home Complete, Fusion 5s Boosters.
The weBoost Home Multi-Room, weBoost Home Complete, and SureCall Fusion 5s are mid and high tier booster kits that have been designed specifically for multi-level residences and larger homes. You may get more or less coverage depending on the outside signal strength and outside antenna mounting option. They have been designed for users who need a multi-carrier booster so many can use cell devices simultaneously. There's no set limit on the number of phones and tablets that will experience enhanced stronger reception - That depends on the strength of outside signal.
We've got signal boosters for every user in every situation.
SignalBooster.com has the signal booster you need to improve weak cell signal, regardless of where you are or where you need signal boosting. We can help you choose the right signal booster for your specific situation and to suit your budget. Explore our complete line of cellphone boosters at this website, try our automated booster recommendation tool, and remember that we're here to help in any way we can, by providing expert guidance. We're just a phone call away.
In 2023, SureCall has launched SureCall Fusion 5X Max - while it is expensive, it is a powerhouse of all signal boosters.
---
Share this post
---
---