weBoost Drive Reach RV Extreme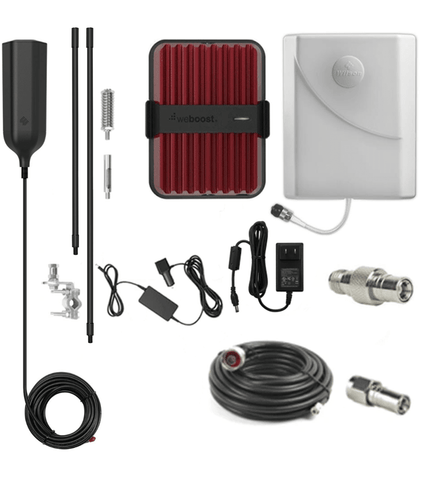 weBoost Drive Reach RV Extreme
Regular price

$799.99 USD

Sale price

$675.00 USD
Best Price Guarantee. [1, 2, 3]
Buy Now, Pay Later with No Interest if paid in full within 6-12 months. Choose Klarna payment option at the checkout for details of this, and other long-term low-interest financing options.
Free Lifetime Support. SKU / Model: 470154-RV
Best Price Guarantee [1 2 3]
Other Options:
This listing is for the Drive Reach RV Extreme (470154RV) with Panel interior antenna and Tall adjustable 7.5 inches to 40 inches exterior antenna. We carry other antenna kitted versions as well:
Note: Hardwire power supply, if needed, is available separately for purchase. Required, if your RV trailer or Motorhome does not have spare DC power socket, nor AC power outlet.
Call for FREE consultation:
1(855)846-2654
Need installation quote, or help with designing a custom solution? Submit a request for quote.
Description
Reviews
Questions & Answers
Data Sheet / User Guide
Make An Offer
Warning
Description
Product Description
weBoost Drive Reach Extreme RV cell phone signal booster is for RVers that go RVing across the country. They depend on reliable mobile connectivity for staying safe on the roads and in RV parks near waterfront properties or off-grid rural and remote places. As part of their next-generation cellular amplifiers, this cellular amplifier for RVs delivers a reliable 4G LTE service when nearest cellular tower is too far away for cellphone or mobile hotspot device to catch the signal on its own.
5G Ready - This weBoost booster will work for the next decade and beyond.
Priced at $625, this mobile reception amplifier is effective whether your RV is parked or on the move. With more than double the uplink power of similar mobile phone boosters, the weBoost RV Drive Reach booster works effectively with all major carriers for both data and voice, dramatically improving cell signal within an RV with high power tall exterior antenna combined with high powered directional broadcast interior antenna.
An advantage of the high antenna that comes with this kit is that its height can be adjusted up to 40 inches such that it can clear RV cabin or off road camper van so that it can get full 360 degrees range. The coaxial cable comes attached with antenna for installation ease. It does not need to be grounded because grounding is built-in. Antenna can be mounted to an existing antenna mount such as a CB mount you may have, or something similar where the threads can go through and be attached to the mount. The kit comes complete with all parts required to perform a complete installation.
List of parts included in this RV kit:
This complete kit consists of SKU #'s 470154 + 311229 + 311135 + 955812 + 970019 + 850012 + 970030 and includes all of the following parts:
Installation guide for the weBoost Drive Reach.
460054 - weBoost Drive Reach cellular signal amplifier.
311229 - Outside Omnidirectional 4G OTR Spring Mount Antenna with 3-Way Mount and SMA Male to SMB Female connector / adapter to connect OTR Exterior antenna to signal amplifier base box.
311135 - Inside Directional Panel Broadcast Antenna.
16 feet low-loss LMR195 exterior omni antenna cable with SMB-to-SMA Male connector / adapter (included in 311229) to connect OTR antenna to signal amp. box.
955812 10 ft. RG-58 with SMA Male connector on one side and the N-Male Connector on other to place the panel antenna in the best location.
970019 SMA Female To SMB Female Plug connector to connect In-RV Panel antenna to cellular amplifier box base device.
850012 - AC Power Supply.
970030 - SMA Male to SMB Female Adapter.
311215 - Drive magnetic omni-directional outside antenna & 314419 Slim low profile inside patch server antenna (both used for other smaller vehicles and is not required for RV installation).
Hardwire power supply, if needed, is available separately for purchase. Required, if your RV trailer or Motorhome does not have DC nor AC power socket. Optional accessory, RV AC to DC converter is available. DC/DC Power supply (850020 - Vehicle power supply: 5V/4.5A DC with pass-through 2.1A USB-A port), if needed, is available separately.
Benefits:
The RV Drive Reach is weBoost's most powerful 4G booster for recreational vehicles. Enhanced uplink power of this amplifier ensures that signal is caught from cell phone towers that are twice as far away as any other RV booster.
Installation is a very easy with snap and click connector connections for SMB inside and outside antenna ports.
To make installation easier, the kit includes optional screw holes.
This RV solution cell booster kit has RV grade internal plus external antennas. Internal antenna provides larger coverage within RV and external antenna is a more rugged and efficient RV solution because it has a spring mount to withstand tree branches and high winds plus catches signals better with its taller height.
Signal is boosted in RV all along the directional path of interior Panel antenna to cover all of RV. Please note that coverage area solely depends upon strength of outside signal received by external adjustable 7.5 inches to a whopping 40 inches height antenna but this kit does give the best shot in worst signal strength circumstances.
3G and 4G LTE cell signal is boosted for multiple users on major carrier networks simultaneously including T-Mobile, AT&T, Verizon, US Cellular, Sprint, and others; resulting in faster download speeds, improved reception, and fewer dropped calls.
Max. Cell Signal Power for RV's and Other Similar Vehicles That Require Large Cell Coverage Area Inside.
Whether RV, Motorhome, or a luxury bus, the weBoost RV Drive Reach wireless cellular amplifier is part of Wilson Electronics' next-generation signal boosters for large vehicles with lots of inside space requiring cellular coverage. Boasting an industry-leading uplink power of 28.3 to 29.5 dB, this amplifier allows you to travel farther from cell towers, yet still achieve a strong and reliable connection.
Now while traveling or vacationing in your RV or Motor Home, you can reliably stay connected and achieve faster 4G data, with fewer undelivered texts, dropped calls, and missed email messages.
weBoost RV Drive Reach Booster Was Designed to Keep Offgrid RV'ers Safe.
There was a time when having a usable cell phone signal out in remote regions of United States and Canada was impossible. However, today it is a luxury and an absolutely vital component for safety of individuals and family going on summer trips and vacations or visiting out of state friends, relatives, and family. The RV Drive Reach booster is for anyone out on open roads, in wilderness, or rural regions who need strong, reliable cell phone connectivity, like:
Vehicles passing by rural towns with poor cell service.
Vacationers who require enhanced phone signal for their need to talk to friends or neighbours in case of emergency at home.
RVs that are unable to achieve a reliable signal in a specific area, like RV campground that is off-grid or on shore with phone tower too far away.
Government vehicles used by gov. personnel such as Sheriffs, Peace Officers, Police Officers, Fire Fighters, and so on.
Simple Do-It-Yourself Installation.
Installing Drive RV Reach is easy such that you can do-it-yourself; you don't need to engage professional installation help. You will, however, need to ensure minimum of 15 feet separation from inside and outside antennas. This distance can be less if you can think of ways to install outside and inside antennas as far away from each other as well as ensuring that there are things that block signals between them such as metal roof, body of vehicle, etc. This is to ensure that signal oscillation does not occur. The 20 feet of RG58 coaxial cable included should be run to the booster unit, and secured to the back of the RV or front of RV; with inside antenna in opposite side front or back, but as close as possible to the place in RV where you would normally use your cellphones and mobile hotspots. Finally, the antenna cables and 12 V power adapter should be attached to the booster.
Works with All Major Carriers.
If you need to boost voice calls and 3G and 4G LTE data while out in nowhere lands or faraway places, this is an ideal signal boosting solution. It will broadcast boosted signal in the RV's cabin in a directional fashion from interior antenna, allowing you to use multiple mobile devices at the same time. Major wireless carriers supported include AT&T, Verizon, Sprint, T-Mobile, US Cellular, and all other carriers. This booster operates on common 3G/4G cellular frequencies:
1900 MHz (PCS) bands 2 and 25.
1700/2100 MHz (AWS) band 4.
850 MHz (Cellular 850) band 5.
700 MHz (SMH) bands 12, 13 and 17.
Specifications of Amplifier Model 460054 w/Product # U460054.
| | |
| --- | --- |
| Frequency | 700 MHz - Band 12/ 13/ 17, 850 MHz - Band 5, 1700/ 2100 MHz - Band 4, 1900 MHz - Band 25/ 2. |
| Maximum Gain | 50 Decibels (dB) |
| Impedance | 50 Ohm |
| Voltage / Power | 5V/ 4.5A |
| Connectors | SMB |
| Dimensions | 6 x 4.5 x 1.5 inches (amplifier) |
| Weight | 1.80 (amplifier only) |
| 470154-RV (USA) UPC | 697691004563 |
Note:
This is a custom kitted weBoost Drive Reach cell phone signal booster kit (Drive Reach RV). Therefore, the data sheet and user guide will not reflect reference to added antenna and related parts in this particular kit. Please call us for details or assistance with installation. Thank you.
Core Benefit:
This weBoost Drive Reach RV kit is the most powerful weBoost signal booster kit to date, combined with enhanced capability of tall trucker antenna which can clear RV height for better reception and a Panel directional antenna to cover larger area which is ideal for big cabin vehicles such as RVs and Motor Homes.
Other Options:
This listing is for the Drive Reach RV Extreme (470154RV) with Panel interior antenna and Tall adjustable 7.5 inches to 40 inches exterior antenna. We carry other antenna kitted versions as well:
Consumer Alert:
Reviews
Questions & Answers
I was going to buy the weBoost Drive X RV but noticed the Drive Reach RV Extreme. What is the difference? Antenna or antenna height?

The difference is the booster itself as well as both interior and exterior antennas.

The Drive Reach RV Extreme Booster itself has higher uplink and downlink power than the Drive X RV Booster.  

As far as antennas go:

Drive X RV Kit Exterior Antenna can adjust from 9.5 inches to 28.5 inches in height.
 
Drive Reach RV Extreme Kit Exterior Antenna can adjust from 7.5 inches to 40 inches in height.

Drive X RV Kit Interior Desktop Antenna provides omni-directional coverage with up to 2.4 dB Gain covering much smaller area around the desktop antenna.

Drive Reach RV Extreme Kit Interior Antenna can provide much larger directional coverage area with 7 dB to 10 dB Gain potentially covering all of any RV.

This kit has been working exceptionally well since over a year but all of a sudden I noticed it is not working as well as it used to. Can you help?

Very sorry it does not seem to be working well anymore. Has there been any changes such as impact to exterior antenna due to brushing against tree branches, etc.? Has a wire or cable been pulled causing it to get unplugged from the booster? Please check all cable connector connections to make sure they are tight and wire has not frayed or been damaged (if so, it can be replaced by buying that part # as listed in product description). Please know that signal bars are not an accurate way to measure signal strength. Please check signal strength after turning on the power to the cell booster kit by putting your phone in field test mode or make and receive calls to know for sure whether there's improvement. As stated at website under "Warning" tab, for any signal booster to help, outside signal strength must be at least -110 dB (3G) or -120 dB (4G) or there must be a clear line of sight to a cell tower that is within twenty miles of your RV. Therefore, it is possible that outside signal strength at your tested location is very weak to catch and amplify so it is very important to install correctly per instructions provided - especially very important to maintain maximum distance possible between interior and exterior antennas to prevent oscillation or feedback which lowers performanec of the signal amplifier. You can even try putting obstructions in between then to reduce oscillation or feedback. Faraday signal blocking products such as fabric or tape may help: https://www.signalbooster.com/collections/faraday-signal-blocking-products-for-antenna-separation If double-checking your install to ensure you have done it correctly does not help, we suggest you to please contact us or the manufacturer to troubleshoot the system to get it to work properly. If defective, it can be sent to manufacturer weBoost for replacement at no cost under its two years warranty.

I recently bought a WeBoost Drive Reach RV. I am also looking for antenna solutions for my mobile hotspot, that are somewhat portable. I am wondering if it would be possible to use the outside antenna from the Drive Reach RV and plug it straight into my hotspot. Could I use a RG-6 to T9 adapter for that? Would I need to use a splitter so that I can plug into both T9 ports? Any advice you can give would be greatly appreciated.

Thank you for reaching out to us. Yes, technically you can directly connect antenna to hotspot if you choose to do that for passive signal boosting effect. In this case, you should be able to use an F to TS9 connector. Unfortunately, we are not familiar with how the internals of the hotspot or router works, so you might need to reach out to the manufacturer of the hotspot to see if you would have to connect to both TS9 connectors for the hotspot to function right.

Further to my earlier question, if I use 20 feet long cable (RG-58, 50 ohm) for internal panel antenna, amplified signal will not be weakened? If so, advise the part # of this cable, is it 955822 - 20 Feet RG 58 coax cable assembly (N-Male to SMA Male Connector).

It will weaken slightly but using a longer interior antenna cable will not have severely adverse effect or impact on coverage size (compared to using longer exterior antenna cable) because signal amplifier will have already boosted the weak signal it receives from outside, and should be able to easily compensate for signal loss incurred due to longer interior antenna cable. Yes, you are right, cable part # 955822 can be used to replace the 10 ft. interior antenna that comes with this kit, if you need a longer run 20 ft. cable.

Please advise how far internal panel antenna can distribute amplified signal without any problem? Can it do distribute more than 20 feet? Meanwhile, please advise do you carry 20 feet long cable (RG 58) extension?

With good signal outside but weak or no signal inside, Panel antennas can project signal for up to 75 feet.

Yes, we carry RG58 cable of various lengths including 20 ft. here:

https://www.signalbooster.com/products/rg58-low-loss-coax-cables-2-to-30-ft-50-ohm

I am going to extend external antenna cable that came with this kit by using 10 feet and 3 feet cable extension because 16 feet long cable that it comes with is too short for my installation. Consequently, total length of external antenna cable to booster will be 29 feet, will it be no problem? No signal strength is weakened?

Sorry, the strength will be weakened considerably. We never recommend extending exterior antenna cable simply because exterior signal is most essential for the booster to amplify. 

Instead, we recommend extending interior antenna cable which distributes super boosted signal and can afford to lose signal caused by such longer length cable. 

However, if you must extend exterior antenna cable and there's absolutely no alternative, or a way around doing that - you can definitely try such a set-up but the results will be much, much, better if you extended interior antenna cable instead of exterior antenna cable.

Question about facing direction of interior antenna: Your website says that interior antenna should face opposite direction against exterior antenna. Will it be matter for this booster which will be for my RV because I have to install exterior antenna on the front side of roof and internal antenna inside of rear wall of my living area in RV. Consequently, inner antenna would face at exterior antenna.

They can technically face each other if that is the only way you can install them. The roof of RV usually acts as a sufficient barrier, enough to prevent oscillation. If not, you can buy RF blocking fabric and/or tape to stick on ceiling of RV under exterior antenna to prevent oscillation.

Does the Wall Mount Panel LTE Antenna (311135) included in the weBoost package require power? What is the difference between the OTR antenna 304415 (which is included in the RV Extreme package) and the 311229 OTR antenna? What is the length of the cable that comes with the 304415 OTR antenna? Is it possible to shorten this to installed length by the installer to reduce signal loss?

The wall mount panel antenna does not require power - its cable connects to main amplifier unit which requires power.

OTR antenna 304415 comes with 14 ft. cable and it has slightly longer masts that enables it to be lengthened to max 45 inches height. The newer 311229 comes with longer 16 ft. cable, but has shorter masts to elongate it to height of only maximum 40 inches - but note that 311229 is overall more rugged (military grade) and durable than 304415.

Cable lengths are not possible to be shortened. They are extremely low loss cables so there should not be much concern about signal loss for leftover excess cabling.

Want a unit I can transfer between home and motorhome. Primary use will be streaming. Firestick, Netflix, fubo etc. Phone and pc second. Recommended system for me.

Yes, this kit can work fine as long as you need to use in motorhome when parked only. You can buy this kit and buy the following parts separately to install in your home:



Then simply remove the booster unit from motorhome and take it to plug into the system at home whenever needed.

What's the benefit of SureCall In-Building Panel Antenna 3G, 4G, 50 Ohm (SC-248W Or CM-248W) vs the stock weBoost Drive Reach (470154) antenna?

SC-248W would cover up to 1000 sq. ft. area and provide up to 7 dBi Gain at 698-960 MHz & 10 dBi Gain at 1700-2700 MHz.

The stock weBoost Drive Reach interior antenna would cover only up to 5 ft radius around antenna and provide up to 3.4 dB Gain at 698-960 MHz, 2.1 dB Gain at 1710-2170 MHz, and up to 1.0 dB Gain at 2500-2700 MHz.

Both my RV trailer and my Motorhome do not have 12V DC power supply. Can this be used with AC electric outlet or is this only a DC unit?

If you don't have a 12V DC power supply socket, you can also buy the preferred hardwire kit option listed here: https://www.signalbooster.com/products/12v-dc-hard-wire-power-supply-for-weboost-drive-reach-fleet-850022

Or you could get by with a RV AC to DC converter / adapter listed here (less preferred option): https://www.signalbooster.com/products/110v-ac-to-dc-12v-converter-with-car-adapter-socket-3-amp-3000-ma
Data Sheet / User Guide
Make An Offer
Warning
Note: For any signal booster to help, outside signal strength must be at least -110 dB or there must be a clear line of sight to a cell tower that is within twenty miles. Before ordering, please check outside signal level in decibels or ensure that you can make and hold a phone call at any good spot outside where you can mount an exterior antenna. Square footage stated in signal booster listings is based on good signal outside. If it is any weaker, the boosted sq. ft. area will be considerably lower, accordingly.
Kevin K. of Anderson, California gave the following review:
Website is easy to use with plain straight forward info but could have had more on testing signal strength to make sure you get a strong enough booster.
Therefore, please note that stated sq. ft. coverage is based on good signal outside. For best results: If outside signal is weak, we suggest choosing the next higher sq. ft. coverage kit. If outside signal is very weak, we suggest choosing the kit with even more higher sq. ft. range bracket. Basically, higher the sq. ft. bracket, the more powerful the signal amplifier with greater Gain as well as higher uplink and downlink output power.
If outside signal is too weak (weaker than -110 dB), submit request for cell coverage solution assessment. Upon receipt of questionnaire, we will perform residential or business site survey. This will help us determine the system that is needed to improve cell coverage. Then, we will create system design using that system such as femtocell, active or hybrid distributed antenna system (DAS), or other carrier feed signal enhancing method available that will work at your signal-challenged location. Finally, we will schedule for installation after equipment and installation service quote has been approved by you, or your company.
For non installation-included kits: Most home / office / building cell signal booster kits only include bracket to mount exterior antenna on outside wall, edge of roof, or existing pipe up to 2 inches in diameter. Mounting pole not included with most kits, unless stated specifically that it is included for free. Therefore, a mounting post must be purchased separately if you will require it to mount exterior antenna.
---
Related Products