Industrial Signal Boosters (Wi-Fi, Cellular, Public Safety, HDTV)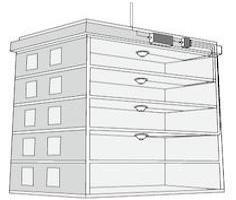 At SignalBooster.com, we carry a wide variety of industrial signal boosters for cell phone, WiFi, HDTV, and two-way radio signals. These signal amplifying devices require certified installer installation and require explicit industrial-use approvals from relevant carriers prior to installation. They are designed for large industrial spaces like warehouses and office buildings, where hundreds of users are communicating simultaneously. Whether you're using a smartphone, tablet, or laptop, our signal boosters expand the coverage area in a safe and secure way. Often, thick building materials can block cellular frequencies and cause poor reception. If you're experiencing dropped calls or weak wireless signals in your office building, an industrial signal booster can help. We provide an installation service anywhere in the nation - just submit installation questionnaire for a quote. We can also install the equipment for you using commercial signal boosters for office buildings, at a lower cost.
We also carry public safety signal boosters (also listed below) that can improve communication signals for health and safety workers. This is crucial for emergency and disaster preparedness, including firefighters and first responders.
---