weBoost Drive Reach Marine Extreme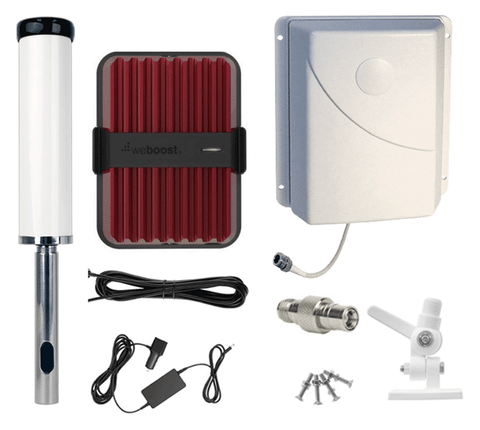 weBoost Drive Reach Marine Extreme
Regular price

$849.99 USD

Sale price

$749.99 USD
Best Price Guarantee. [1, 2, 3]
Buy Now, Pay Later with No Interest if paid in full within 6-12 months. Choose Klarna payment option at the checkout for details of this, and other long-term low-interest financing options.
Free Lifetime Support. SKU / Model: 470154-MARINE-PANEL
Best Price Guarantee [1 2 3]
Core Benefit: This weBoost Drive Reach Marine Extreme kit is the most powerful weBoost signal booster kit to date, combined with enhanced durability of weatherproof exterior antenna and enhanced capability of interior Panel directional antenna to cover larger area which is ideal for marine vessels such as yachts and ships.
Note: Hardwire power supply, if needed, is available separately for purchase. Required, if your boat yacht ship vessel does not have DC power socket, nor AC power outlet. Optional accessory, boat, yacht, ship AC to DC converter is available.
Other Options: This listing is for the Drive Reach Marine Extreme (470154-MARINE-PANEL) with Panel interior antenna providing coverage over larger marine vessel spaces and weatherproof exterior Marine antenna. We carry other antenna kitted versions as well:
Call for FREE consultation:
1(855)846-2654
Need installation quote, or help with designing a custom solution? Submit a request for quote.
Description
Reviews
Questions & Answers
Data Sheet / User Guide
Make An Offer
Warning
Description
Product Description
weBoost Drive Reach Extreme Marine cell phone booster is for boaters who depend on reliable connectivity for staying safe on the waterways. As part of their next-generation cellular amplifiers, this cellular amplifier for marine crafts delivers a reliable 4G LTE service on the water.
5G Ready - This weBoost booster will work for the next decade and beyond.
Priced at $749, this mobile reception amplifier is effective whether your boat is moored, or underway. With more than double the uplink power of similar mobile boosters, the weBoost Marine Drive Reach signal booster works effectively with all major carriers for both data and voice, dramatically improving cell phone signal over a large swath of area within the marine vessel high power weatherproof exterior antenna combined with high powered directional broadcast interior Panel antenna. The kit comes complete with a marine exterior antenna, panel interior antenna, and two 20-foot of RG58 coax cables. It includes all parts required to perform a complete installation.
List of parts included in this Marine Extreme kit:
This complete kit consists of SKU #'s 470154 + 304420 + 901119 + 311135 + 970019 (Qty. 2) + 955822 + 850012 + 970030 and includes all of the following parts:
Installation guide for the weBoost Drive Reach.
460054 - weBoost Drive Reach cellular signal amplifier.
304420 - 2.5 x 9.88 in. Marine antenna with 1" x 14 threaded ferrule.
901119 - Exterior marine antenna mount.
311135 - Inside directional Panel broadcast antenna.
970019 - Two SMA Female To SMB Female Plug connector to connect indoor Panel antenna to cellular amplifier box unit.
970030 - SMA Male to SMB Female Adapter.
955822 - Two 20 ft. of RG58 coaxial cables (one comes with 304420 marine antenna). If needed, buy longer or shorter cable(s) separately for exterior and/or interior antenna(s).
850012 - AC Power Supply.
311215 - Drive Magnetic omni-directional outside antenna & 314419 Slim Low Profile inside Antenna (both used for vehicles and is not required for Marine installation).
850020 - Vehicle power supply: 5V/4.5A DC with pass-through 2.1A USB-A port.
Note: Hardwire power supply, if needed, is available separately for purchase. Required, if your boat yacht ship vessel does not have DC power socket, nor AC power outlet. Optional accessory, boat, yacht, ship AC to DC converter is available.
Benefits:
The Marine Drive Reach is weBoost's most powerful 4G booster for offshore vessels such as ships and yachts. Enhanced uplink power of this amplifier ensures that signal is caught from cell phone towers that are twice as far away as any other Marine booster.
Installation is a very easy with snap and click connector connections for SMB inside and outside antenna ports.
This Marine solution cell booster kit has Marine grade internal plus external antennas. Internal antenna provides larger coverage within ships and external antenna is a more rugged, weatherproof and long lasting solution to withstand high winds or moist sea air.
Signal is boosted in ship all along the directional path of interior Panel antenna to cover needed critical areas of the ship where cellular coverage is essential. Please note that coverage area solely depends upon strength of outside signal received by external height antenna.
3G and 4G LTE cell signal is boosted for multiple users on major carrier networks simultaneously including T-Mobile, AT&T, Verizon, US Cellular, Sprint, and others; resulting in faster download speeds, improved reception, and fewer dropped calls.
Max. Cell Signal Power for Marine Vessels That Require Large Cell Coverage Area Inside.
Whether large boat, yacht or ship, weBoost Marine Drive Reach wireless cellular amplifier is part of Wilson Electronics' next-generation signal boosters for large vehicles with lots of inside space requiring cellular coverage. Boasting an industry-leading uplink power of 28.3 to 29.5 dB, this amplifier allows you to travel farther from cell towers, yet still achieve a strong and reliable connection.
Now while boating or sailing miles from shore, you can stay connected better than before with faster 4G data speed and fewer undelivered texts, dropped calls, and missed email messages.
weBoost Marine Drive Reach Booster Was Designed to Keep Off-Grid Enthusiasts Safe.
There was a time when having a usable cell phone signal offshore and out in remote regions of United States and Canada was impossible. However, today it is a luxury and an absolutely vital component for safety of individuals and family going on summer trips and vacations or visiting out of state friends, relatives, and family. The Marine Drive Reach booster is for anyone out on open roads, in wilderness, or rural regions who need strong, reliable cell phone connectivity, like:
Vessels traveling in remote waterways with poor cell service.
Boaters who require enhanced cell signal while underway.
Boats that are unable to achieve a reliable signal in a specific area, like around the helm.
Government agencies, such as Harbour Patrol, Fish and Wildlife Service, Sheriffs. Police Departments, and so on.
Simple Do-It-Yourself Installation.
Installing Drive Marine Reach is easy such that you can do-it-yourself; you don't need to engage professional installation help. You will, however, need to ensure minimum of 15 feet separation from inside and outside antennas. This distance can be less if you can think of ways to install outside and inside antennas as far away from each other as well as ensuring that there are things that block signals between them such as metal roof, body of vehicle, etc. This is to ensure that signal oscillation does not occur. The two 20 feet of RG58 coaxial cables included should be run to the base booster unit, and secured to the back of the vessel or front of vessel; with inside antenna in opposite side front or back under the deck or wherever signal is needed where you would normally use your cellphones and mobile hotspots. Finally, the antenna cables and 12 V power adapter should be attached to the booster.
Works with All Major Carriers.
If you need to boost voice calls and 3G and 4G LTE data while out in nowhere lands or faraway places, this is an ideal signal boosting solution. It will broadcast boosted signal in the cabin in a directional fashion from interior antenna, allowing you to use multiple mobile devices at the same time. Major wireless carriers supported include AT & T, Verizon, Sprint, T-Mobile, US Cellular, and all other carriers. This booster operates on common 3G/ 4G LTE cellular frequencies:
1900 MHz (PCS) bands 2 and 25.
1700/2100 MHz (AWS) band 4.
850 MHz (Cellular 850) band 5.
700 MHz (SMH) bands 12, 13 and 17.
Specifications of Amplifier Model 460054 w/Product # U460054.
| | |
| --- | --- |
| Frequency | 700 MHz - Band 12/ 13/ 17, 850 MHz - Band 5, 1700/ 2100 MHz - Band 4, 1900 MHz - Band 25/ 2. |
| Maximum Gain | 50 Decibels (dB) |
| Impedance | 50 Ohm |
| Voltage / Power | 5V/ 4.5A |
| Connectors | SMB |
| Dimensions | 6 x 4.5 x 1.5 inches (amplifier) |
| Weight | 1.80 (amplifier only) |
| 470154-MARINE-PANEL (USA) UPC | 697691004570 |
Note:
This is a custom kitted weBoost Drive Reach cell phone signal booster kit (Drive Reach Extreme Marine). Therefore, the data sheet and user guide will not reflect reference to added antenna and related parts in this particular kit. Please call us for details or assistance with installation. Thank you.
Core Benefit: This weBoost Drive Reach Marine Extreme kit is the most powerful weBoost signal booster kit to date, combined with enhanced durability of weatherproof exterior antenna and enhanced capability of interior Panel directional antenna to cover larger area which is ideal for marine vessels such as yachts and ships.
Other Options: This listing is for the Drive Reach Marine Extreme (470154-MARINE-PANEL) with Panel interior antenna providing coverage over larger marine vessel spaces and weatherproof exterior Marine antenna. We carry other antenna kitted versions as well:
Consumer Alert:
Reviews
Questions & Answers
Do you offer different length cables with weBoost Marine kit? It would be nice if you have a drop down arrow with options to choose the length preferred. I would like to purchase this kit but instead of 20 ft. cable, I want 30 ft. of cable and wonder if you can replace the 20 ft. with a 30 ft. cable?

Regarding marine kits, we always first recommend original marine kit listed at link below: https://www.signalbooster.com/products/shakespeare-super-halo-3g-4g-lte-rv-marine-cellular-booster The reason is that the kit at link above has been designed specifically for marine vessels. It comes with 40 ft. exterior antenna cable and 20 ft. interior antenna cable. Since it is made from scratch especially for marine vessels, it has all the bells and whistles for secure marine vessel installation including weatherized exterior components. If you must get a longer cable for weBoost Drive Reach Marine or the weBoost Drive Reach Marine Extreme, you will need to buy additional specific length cable you need separately at link below: (Different length cables for weBoost Drive Reach Marine, RV, OTR Truck kits) https://www.signalbooster.com/products/50-ohm-coaxial-cable-with-sma-male-and-n-male-connector Thank you.

Is it possible to connect 2 separate indoor antennas (one for upstairs and one for downstairs) to one booster that connects to one antenna? Or if that is not possible, is it possible to connect two boosters with 2 indoor antennas to only one outdoor antenna. Or would we have to purchase 2 whole separate units with two outdoor antennas for upstairs and downstairs and would that create any conflicts? Moving the upstairs indoor antenna to help the downstairs benefit is not an option for us. Least amount of additional equipment the better without compromising the signal.

A second indoor antenna can be added with utilization of a splitter. When a second indoor antenna is added, it does divide the signal strength and creates signal loss. If signal is low already outside, this method of using two indoor antennas may not yield optimal performance.

I want to install your signal booster on a 23 foot boat. Since there is no way to separate the inside antenna from outside to meet your required distance to prevent distortion, do I really need the inside antenna?

With a small boat cell signal booster, you only need to achieve 3 feet of separation. Without knowing what type/style of boat you have, we cannot give suggestions or placement but you absolutely need included interior patch antenna that is used in conjunction with external antenna. Just outside antenna and booster will not provide any signal enhancement.

We purchased the weBoost Drive Reach Extreme Marine Cell Phone Booster from you for our boat and the coverage is working much better for everyone where the indoor antenna is located, but it will not reach anyone down below. Is there a way that all could benefit from this booster?

Yes, the Panel interior antenna you have is a directional antenna. Therefore, you can install it on ceiling covering space down below you need covered. People in room of antenna will benefit, and so will those below on lower level. You will have to co-ordinate where to install so most would benefit on both floors.

It looks like the marine antenna & mount is not gonna work for my application. Can I exchange for OTR antenna?

Yes, absolutely. Please note that you must return marine antenna for refund of marine antenna retail price within 60 days.

Meanwhile, you can order the correct antenna option you need online using respective link below:

Option 1: Shorter RV antenna (Adjusts 7.5 To 20.5 Inch).

Option 2: Longer Trucker antenna (Adjusts 7.5 To 40 Inches).

Both antennas are exactly the same except that the longer one (Option # 2: OTR or Trucker antenna) one has an extra mast extension for longer length.

Simply return marine antenna to address shown on our contact us page, along with your order number and the reason for return on a piece of paper (bought another antenna from us to switch out with marine antenna), and we will issue refund when we process your return. Thank you.

The WeBoost Drive Reach Extreme Marine Cell Phone Booster kit includes two part # 970019 SMA Female To SMB Plug Connector. Would I be able to buy a different collection of components but with the correct cables so that I could not need signal-losing connectors? Which cables would I need to buy?

Marine antenna part # 304420 included is supplied with a cable that adapts the marine antenna to SMA-Male connection. So, you would need adapter # 970019 to adapt it to SMB connector on the red cellular amplifier unit.

There are no cables available separately with SMB connector on it, so the adapter would be required. weBoost does not sell marine kits. Being their distributor, we have this marine kit we have put together for marine vessels. Rest assured that the signal loss incurred due to extra connector that you're concerned about, is minimal at only up to 0.5 dB.

Also, the marine antenna cable is detachable from antenna, whereas the magnetic antenna in standard Drive Reach kit is fixed to the antenna. Therefore, in future, when we have the separate cable crimped with SMB connector become available, you can replace it then on your marine antenna to bypass extra connector.

Is this unit 5G ready?

Yes, it is "5G Ready", per manufacturers statement. However, please note that "5G Ready" does not mean "5G". Let us explain:

Currently, as of November 17, 2020, none of the boosters that weBoost and WilsonPro make are true "5G" meaning they do not, and will not boost higher Millimeter Wave frequencies slated for 5G.

Please read the summary at bottom of page at https://www.weboost.com/5g that reads: (pasted below between dotted lines)

.........................................................................................................

Will weBoost boosters work with 5G?

Yes, our current weBoost product line will work in a 5G world. Carriers will continue to rely on the 4G LTE network to provide service for the majority of subscribers well into 2030 and beyond.

.........................................................................................................

Essentially, when they say "5G Ready", it means what is stated above - they will simply work in 5G world, to boost 4G signal. None of their boosters are "5G", as of today.

"5G Ready" in boosters also implies that where 5G network is not available (this includes places on map where 5G exists per the Carrier, but there's no service at a specific spot due to factors such as building materials, trees, etc.), the 5G device will automatically use default available 4G or LTE network which will, in turn, be enhanced by these boosters to provide better coverage if it is not already optimum.

In summary, the answer to your question is yes, this booster covers exact same frequencies that all other boosters listed at manufacturers website which state "5G Ready" beside them.

A reviewer commented that he was returning the product because he found that in fact it needs to be within 2 mile range of a cell tower to function. Can you please elaborate on this. Thanks. Also the less expensive model indicates that your inside antenna range 2-4' and this model has greater range. But what IS the interior range of this model? Please don't add me to a spam mail list. Thank you in advance for that.

It can work to boost inside signal up to 50 miles away from a cell tower. That information about 2 mile range requirement from cell tower is not correct. Maybe the cell tower that was within 2 miles belonged to another carrier's cell tower and reception was dropping because relevant carrier's cell tower was already up to 50 miles. The range of this interior antenna called "Panel directional antenna", is up to 5000 sq. ft. depending on strength of outside signal.

A 20 feet cable won't reach the top of the mast on my boat. Do you sell a longer cable or is it possible to hook two together?

As you add cable on to the system, the signal loss increases. That would be problematic in areas of low signal. Having longer runs of 50Ohm RG 58 cable (which is what the system uses) would negate the effectiveness of the system. I can understand the need for longer runs, but in many cases the longer runs wouldn't be effective.

That being said, the following are the cables that can be purchased:

There's the 6 ft. cable: 951130
There's the 10 ft. cable: 951147
There's the 15 ft. cable: 955815

Since the cable that comes with the kit has SMA connectors already, all you would need is just an extension cable like listed above with SMA Male on one side and SMA Female on other - as already included in above cables.

You can add or connect any of above to the 20 ft. cable that comes with the kit for connectivity from exterior antenna to booster base. Please keep in mind that the booster needs -110 dB of signal on 4G or LTE network to boost at a minimum. Outside Marine Antenna has a gain of 5.1 dB and the RG 58 cable loses 2.4 dB per 10 ft. You reach 20 ft. and you have lost almost all the signal that was gained by the antenna, relying solely on the booster to amplify whatever little signal that is left. That is why we wouldn't recommend extension cables.
Data Sheet / User Guide
Make An Offer
Warning
Note: For any signal booster to help, outside signal strength must be at least -110 dB or there must be a clear line of sight to a cell tower that is within twenty miles. Before ordering, please check outside signal level in decibels or ensure that you can make and hold a phone call at any good spot outside where you can mount an exterior antenna. Square footage stated in signal booster listings is based on good signal outside. If it is any weaker, the boosted sq. ft. area will be considerably lower, accordingly.
Kevin K. of Anderson, California gave the following review:
Website is easy to use with plain straight forward info but could have had more on testing signal strength to make sure you get a strong enough booster.
Therefore, please note that stated sq. ft. coverage is based on good signal outside. For best results: If outside signal is weak, we suggest choosing the next higher sq. ft. coverage kit. If outside signal is very weak, we suggest choosing the kit with even more higher sq. ft. range bracket. Basically, higher the sq. ft. bracket, the more powerful the signal amplifier with greater Gain as well as higher uplink and downlink output power.
If outside signal is too weak (weaker than -110 dB), submit request for cell coverage solution assessment. Upon receipt of questionnaire, we will perform residential or business site survey. This will help us determine the system that is needed to improve cell coverage. Then, we will create system design using that system such as femtocell, active or hybrid distributed antenna system (DAS), or other carrier feed signal enhancing method available that will work at your signal-challenged location. Finally, we will schedule for installation after equipment and installation service quote has been approved by you, or your company.
For non installation-included kits: Most home / office / building cell signal booster kits only include bracket to mount exterior antenna on outside wall, edge of roof, or existing pipe up to 2 inches in diameter. Mounting pole not included with most kits, unless stated specifically that it is included for free. Therefore, a mounting post must be purchased separately if you will require it to mount exterior antenna.
---
Related Products